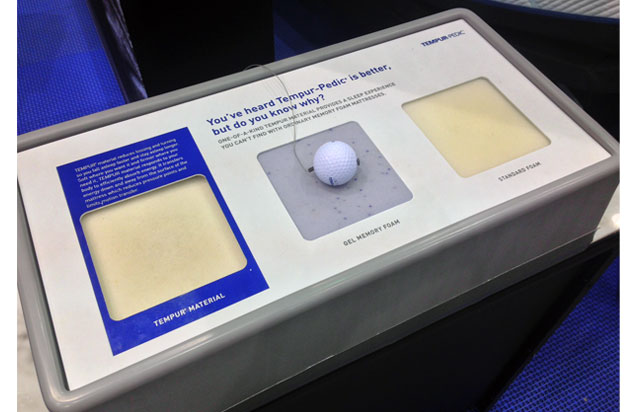 Originally developed for NASA as a material to cushion aircraft seats, memory foam was taken a step further by Tempur-Pedic and incorporated into their top of the line pillows and mattresses.  Regarded as the best and most comfortable, the Tempur mattress material adapts to your exact body shape, size, weight, providing a completely customized sleep experience.
Aside from laying on and testing the various mattresses available, how else can shoppers try before they buy, especially when having to travel from store to store? Tempur-Pedic has that all figured out.
The brand developed a mobile tester display that has three different chunks of foam that represent the most popular options currently in the category. Shoppers can test each one by dropping a tethered golf ball onto the materials. The competitors' material caused the golf ball to bounce up and down several times unlike the Tempur material, which absorbed the golf ball……no bouncing. With this simple tester display, it's quite easy for shoppers to conclude that the Tempur Foam performs as claimed.
This display is similar to an interactive floor display that let shoppers test out the new foam in Adidas Boost running shoes using a ball.