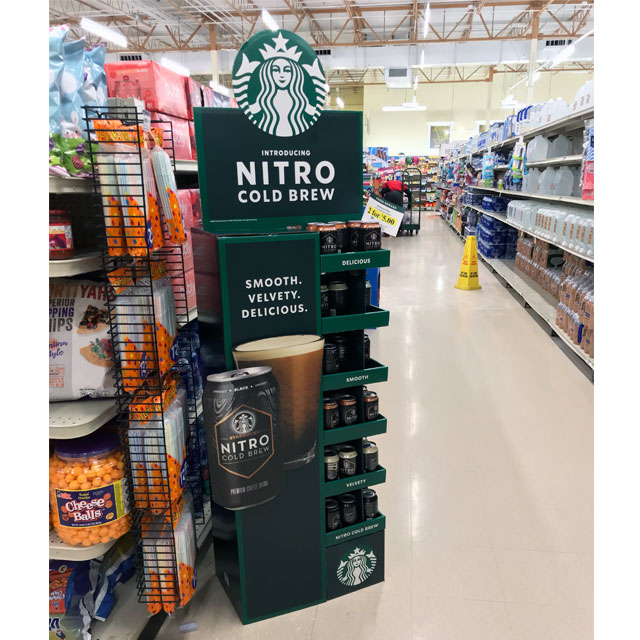 PepsiCo and Starbucks Launch Nitro Cold Brew
Following the successful release of Nitro Cold Brew in August 2019, Starbucks decided to introduce their popular drink to grocery and convenience store retailers. Available in Black, Vanilla Sweet Cream and Dark Caramel flavors, Nitro Cold Brew is infused with nitrogen which causes microbubbles when the can is opened, creating a smooth velvety taste.
To celebrate the new Nitro Cold Brew, Starbucks is giving away 500 limited edition velour track jackets to fans who visit NitroGiveaway.com to claim a jacket.
The brand has also rolled out POP displays to let shoppers know they can now get their nitrogenated coffee fix in-store without having to make a trip to one of the 30,000 plus Starbucks locations. The floor display shown above does a great job of utilizing brand assets and bringing special attention to their new beverage via the larger-than-life product shot on the graphic panel and the descriptive copy on the shelves……the overall look of the display has a Guinness-beer-like feel to it.
Related
Starbucks Side By Side Coolers
Starbucks Flavor and Intensity Floor Display