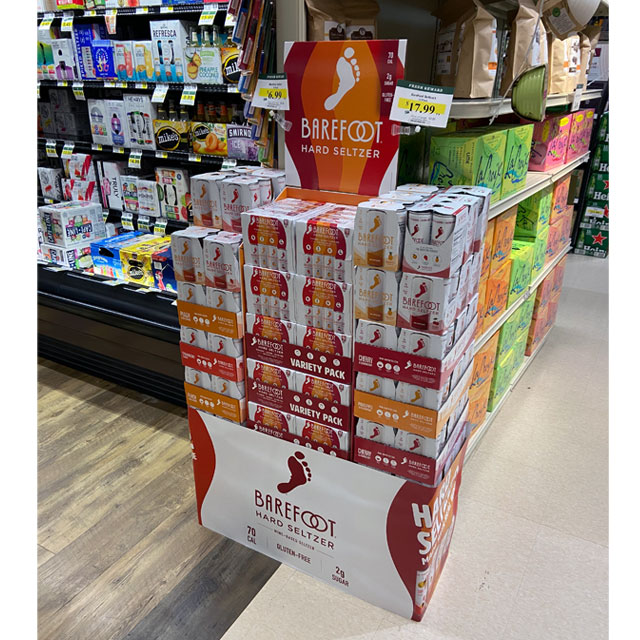 Last month, Barefoot jumped into the hard seltzer category launching the first nationally distributed hard seltzer made with wine. Barefoot Hard Seltzer is produced using three main ingredients (Barefoot Wine – seltzer water – natural flavor) and is available in four flavors – Pineapple & Passion Fruit, Cherry & Cranberry, Peach & Nectarine, and Strawberry & Guava.
"At Barefoot, we are passionate about creating products that meet the various lifestyles and tastes of our diverse consumer base," Vice President of Marketing Anna Bell said in a statement. "With Barefoot Hard Seltzer, we wanted to create a delicious and light-bodied, wine-based hard seltzer that can be enjoyed at home, on the go, or with family and friends."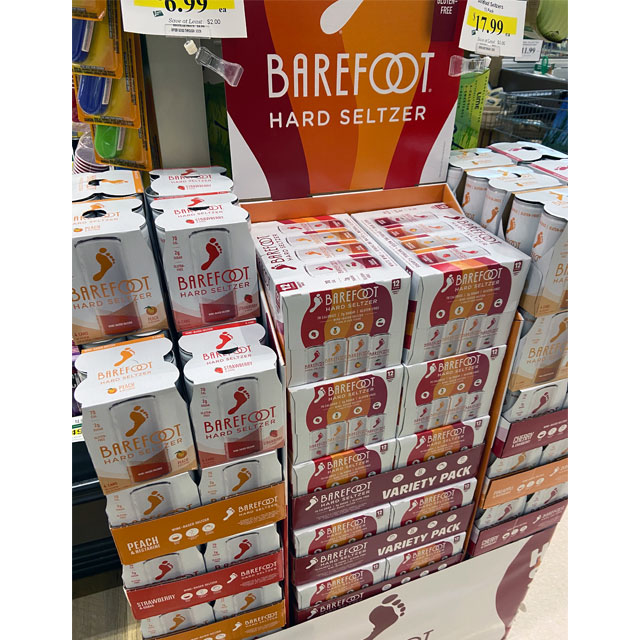 To help support the launch, Barefoot rolled out several in-store displays to promote their refreshing seltzer blends. This stacker display, spotted in the beer aisle of a major grocery store, is a great example of  the simple is better approach.
Several cases of variety packs were stacked up within and around the main center tray. A simple riser and base wrap called out key ingredients that differentiate Barefoot's seltzer from the competitions. It's refreshing to see the power of an uncomplicated execution that keeps brand messaging simple and marketing dollars to a minimum…….POP displays don't need to be fancy to be effective!
Related
Barefoot Wine Dump Bin Display
Falls For Barefoot Wine Stacker
Barefoot Spritzer Rolling Bin Display
References include:
Barefoot