Prayer Wheels – Compassion and Good Karma
A prayer wheel is a hollow cylinder, often beautifully embossed and usually made of metal, mounted on a rod handle and containing a tightly wound scroll printed with a prayer or mantra. The printed scrolls are wrapped around an internal center core which is known as a Life Tree.
The purpose of the prayer wheel is to relieve suffering in the world by radiating peace and kindness. Tibetans believe that the more times you spin a prayer wheel with sincerity, the more positive the effect will be in the world and your own karma.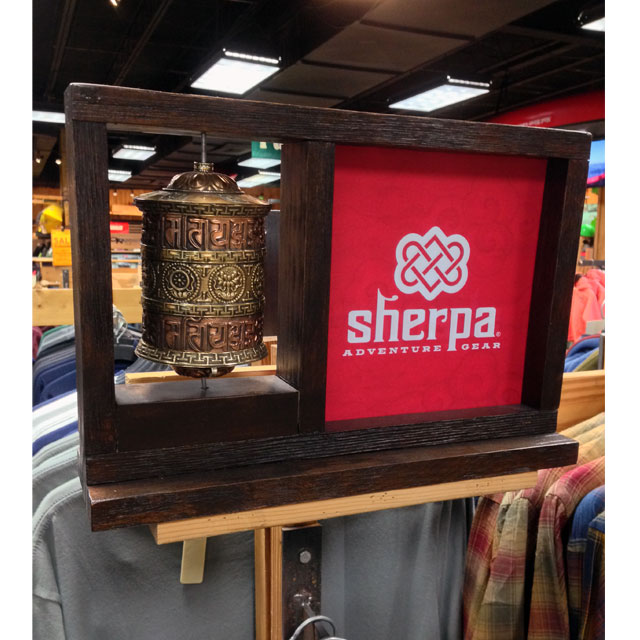 A Small Brand That Can Change The World
For hundreds of years, Sherpas have searched for the most beautiful ways to stay warm, dry and comfortable in the highest mountains on earth. So today, naturally, we embrace the latest technical materials and designs, and we test our gear in the Himalayas for your greater well-being, we also weave into every garment a rich heritage of time-honored beliefs and humility. It is an odyssey of the heart……Sherpa Adventure Gear
Sherpa Adventure Gear was recently spotted in an outdoor store promoting their rugged gear with this apparel rack-topper display. Staying true to cultural traditions and their own vision for the brand, SAG developed this unique display that incorporated a prayer wheel which could be spun by shoppers. A thick, shadowbox-style frame gave the topper an old world feel. To the right of the wheel, a bold red panel showcased brand assets which were visible from both sides.
References include:
religion facts.com
sherpa adventure gear
buddhagroove.com