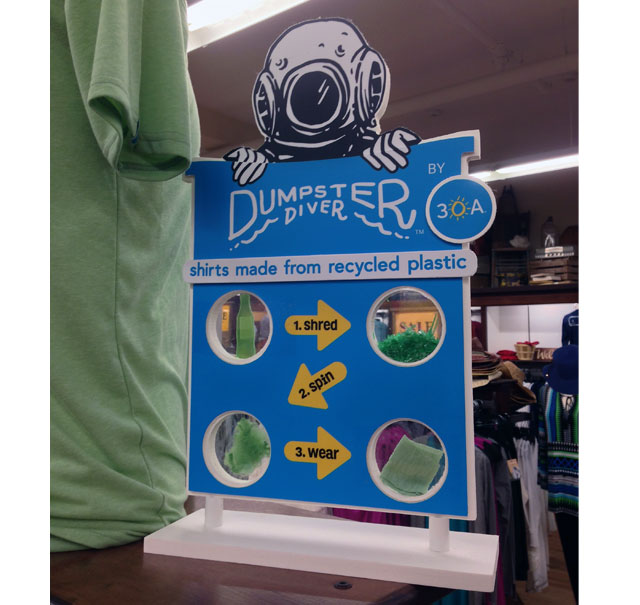 30A's Dumpster Diver Line of Recycled Apparel Expands Across the U.S.
With over 7.5 billion disposable water bottles washing up in seas and landfill sites every year, several companies are capitalizing on creating new and innovative eco-friendly products using these bottles. Dumpster Diver, the latest innovation from The 30A Company, is a line of apparel made from recycled plastic bottles. Fun Fact: Every shirt they produce rescues eight 16-ounce plastic bottles from landfills!
As noted on 30A's website……The story behind the shirts and their unique designs resonates with retailers reaching an audience of beach and outdoor lifestyle lovers of all ages. They are hung on racks alongside well-known national brands such as Patagonia, Prana, Life is Good, Roxy, Billabong and Columbia.

"We're extremely proud to expand our Dumpster Diver line," said JoAnn Ribaudo, chief operating officer of The 30A Company. "These soft, breathable shirts are having an immediate impact on our environment, while keeping in line with the uplifting, beach-loving message we've been sharing with our fans since the company launched in 2007."
30A recently took its message in-store to educate shoppers about their eco-friendly Dumpster Diver product line. Typically, promotional space for items such as T-Shirts is limited to a small area allocated on a fixture or on the actual clothing tags.
In an effort to break the mold and provide better promotional visibility, 30A created a simple stand-alone counter display that could be placed on or near displays merchandising their apparel. Aside from the obvious branding at the top, the cool feature on this display is the round educational windows that provide a visual which correspond to arrows that explain 30A's process in harvesting and converting plastic bottles into usable products. Super simple and super effective.
Since its launch last summer, over 20 different retailers across the country now carry the Dumpster Diver line.