Sally Hansen And Crayola Launch The Insta-Dri Back-to-School Collection 
Sally Hansen And Crayola recently teamed up to launch the Insta-Dri Back-to-School collection which features bright, bold and playful hues that dry in just 60 seconds. The 12 shade collection  (Razzmatazz, Cerulean, Scarlet, Vivid Violet, Denim, Wild Strawberry, Sunset Orange, Carnation Pink, White, Purple Heart, Granny Smith Apple, and Dandelion) was inspired by the Crayola crayons we all used as kids to sketch out vibrant creations. In addition to using some of the most popular shades from Crayola, the colorful bottles even included the brands trademarked squiggle graphic.
Note that the Dandelion shade was just retired from Crayola boxes earlier this year so get em' while their hot!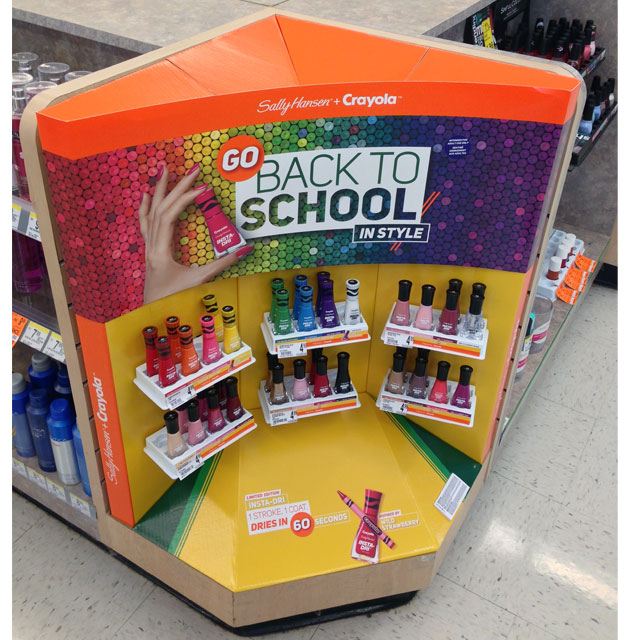 With September fast-approaching, Sally Hansen and Crayola wanted to make sure their new collection was available at retail just in time for the back to school shopping season. Several major retailers are carrying the collection which we happened to find at Walgreens in two different POP displays.
Both displays have been 'dressed up' and used in the past for different Sally Hansen promotions but on this most recent campaign, both companies really hit their marks combining assets to create a unique, cross-promo tie-in between the two brands.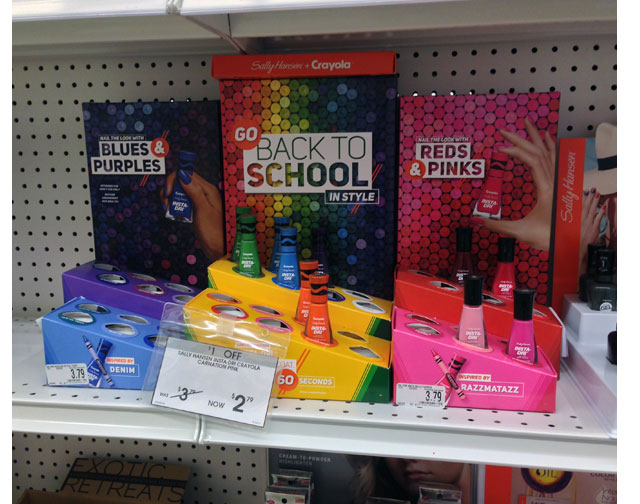 New Addition 10.1.2017 – Recently spotted at Bed Bath & Beyond, this custom, retailer-specific shelf display added additional campaign support. Broken into 3 color segments, the angled product and bright colors create a strong presence among all the other cosmetic displays on-shelf.
Related
Mani In a Minute Shelf Display
Sally Hansen No Light Needed Shelf Display