Monster Hopes To Reign In Market Share
Launched in the spring of 2019 last year, Monster's standalone brand, Reign, is making strides in a new category for fitness-focused beverages. The new brand is touted as a better-for-you fitness beverage that features 300 milligrams of caffeine, no sugar, zero calories and no artificial flavors and colors.
"We've made the strategic decision to not in fact make Reign a line extension of Monster," Monster Beverages CEO Rodney Sacks said during an earnings call in February. "We think it should have its own positioning, its own marketing, create its own personality to give its best chance of success. We already have an extensive range of products in Monster that appeal to consumers. They have their own personality and identity. So we just felt that this was the appropriate thing for us to do with Reign."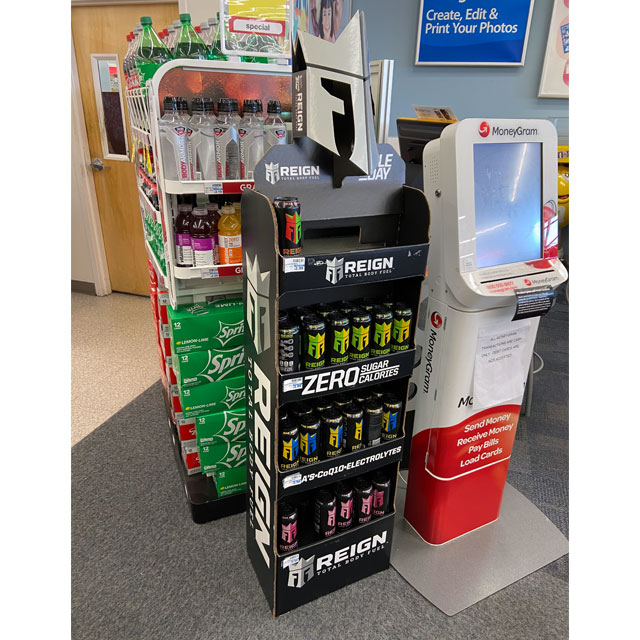 Despite the ongoing controversy with category competitor Bang, Reign was recently spotted promoting 4 of the 6 energizing flavors they released for launch with this sturdy floor display. The hutch-style merchandiser provided a solid vehicle that supported 48-16oz cans of Reign. Copy space was well utilized with product claims and the top of the unit was adorned with a 3-D replica of the brand's logo which gave the display a statuesque presence in-store.
View Other Energy Drink Displays
Red Bull Energy Shots Counter Display
5-Hour Energy Fixes Tired Fast Floor Display
Monster Energy Import Rolling Cooler Display
Sources include:
Monster Energy