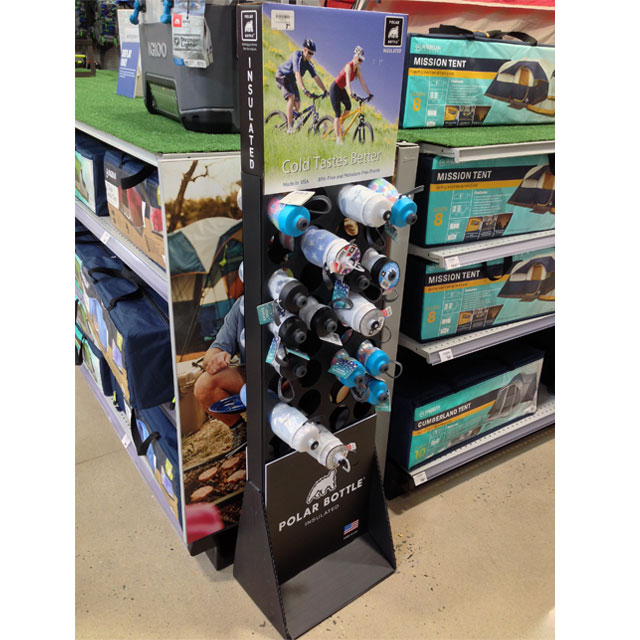 Nothing Performs Like The Original
Founded in 1994 in a Boulder Colorado garage by Robert Heiberger and Judy Amabile, Polar Bottle has grown to become a leader in the hydration market, with many of their sustainable bottles shipped around the world. Their high quality, American-made bottles are used by athletes and outdoor adventurists across the globe and can be found in several major sporting good retailers as well as online.
The brand was recently spotted at Sports Authority promoting their BPA-Free water bottles on this really neat floor display. For the most part, when water bottles are merchandised on POP displays, they are typically arranged in a vertical position, as shown in the links below.
On occasion, you may find them presented in a horizontal format, as depicted in the Polar Bottle display above. The challenge when merchandising horizontally is having enough material in between the bottles to ensure that the display maintains its structural integrity. An example can be found here with this corrugated display……..note the amount of space between products required when using temporary substrates.
The Polar Bottle display was produced using plastic corrugate which allows the die cut bottle holes to be more closely configured. In addition, the plastic substrate usually outperforms a paper-based solution with regards to longevity. The only corrugate component on the display was the 2 sided header.
Related
Cold Tastes Better Floor Display
Cool Gear World Cup Floor Display
No More Moldy Bottle Floor Stand
Submit Your Images For The Gallery