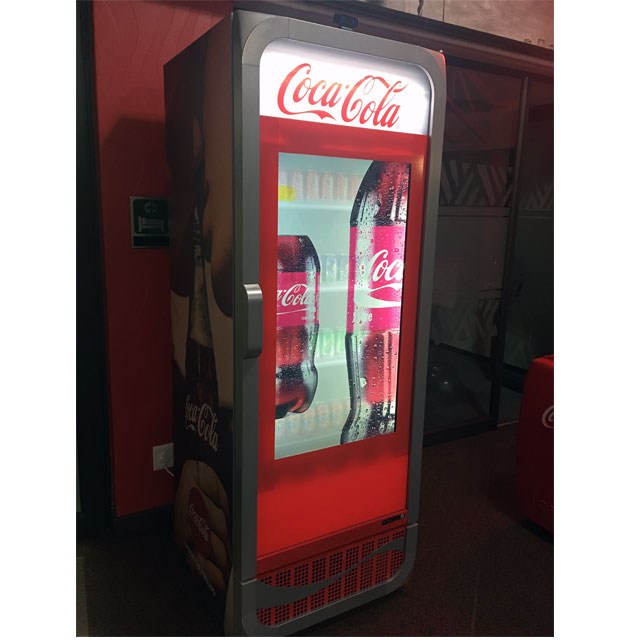 Onyx Display Media scored a double at the lavish dinner POPAI awards ceremony held at the beautiful Maslow Hotel, Sandton, Johannesburg. They won in both the "Best in-Store Promotions" as well as the grand award of the evening, "Innovation of the Year", respectively.
The POPAI South Africa Marketing and Retail Awards is the industry's most coveted ceremony, and therefore it is no surprise that they feature the best of the best in the retail marketing industry. "Congratulations to Onyx Display Media on their awards," said Jo Tshabalala, Membership & Events Manager of POPAI Awards.
Onyx Display Media is a revolutionary transparent digital signage solution that is patented and may be retro-fitted to any cooler, horizontal freezer and may even stand completely alone. Onyx-Glass allows for full HD images to be displayed, whilst simultaneously giving transparency (enabling customers to see the physical product at the same time).
Onyx has developed specialized proprietary software that allows for this to be achieved and managed from a central point – to anywhere in the world. The bouquet of custom-built applications will take interaction at the point of purchase to a whole new level. Onyx-Glass even learns about the customer facing it and will trigger content based on audience profiles – ensuring that the right content reaches the appropriate audience – every time.
Andrew Coudounaris, co-founder of Onyx Media Display, said, "We feel both honored and grateful to win the two awards. It's a massive achievement for us and having our technology recognized as the innovation of the year is something we have worked hard to realize." He then went on to say, "I am also extremely grateful to our client, Coca-Cola, for being bold and brave in embarking on this disruptive digital journey at our side, so I really see this award belonging to them as much as it does to us."
He concluded, "We aim for continuous growth of our technology and sustained market expansion. We have a presence in Australia, so naturally we need to focus on growing that market. We are also entering the UK market in the coming months, which is very exciting for us as a young company."
Contact: Andrew Coudounaris
Email: Andrew@onyx-marketing.co.za
Website: http://www.onyxdisplaymedia.com/
Youtube: Onyx Glass