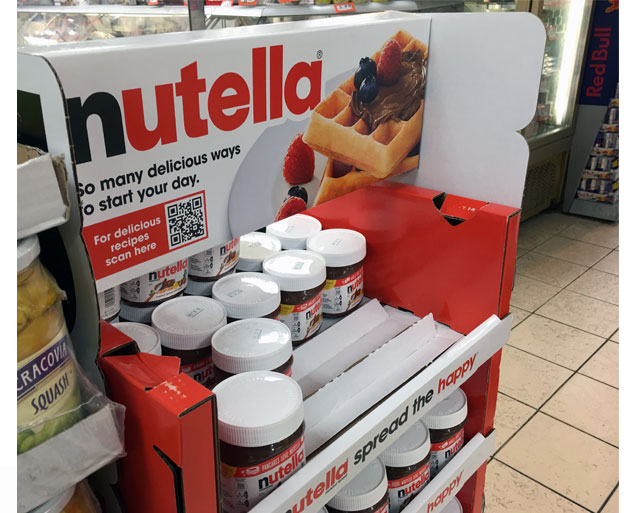 In case you missed it, February 5th was World Nutella Day! To celebrate the chocolate hazelnut spread's 12th annual holiday, Nutella gave away 1,000 free jars to brand fans in Chicago and New York. To make things more personalized, the first 100 customers at local Nutella cafes in NYC got a free jar with their name inscribed on it.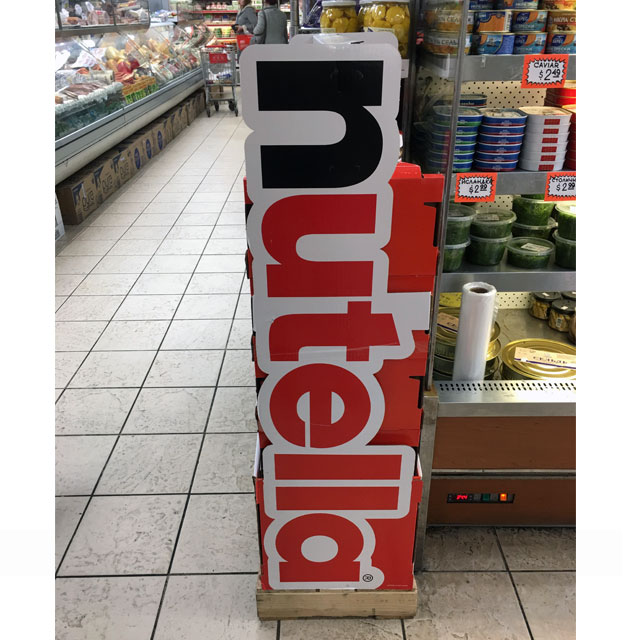 To help 'spread the happy' in-store, Ferrero rolled out this pallet display at select supermarket retailers. The stacker-style display merchandised several jars of product per tray and was shoppable from two sides, which provided retailers flexibility on placement. Love the die cut logo on the sides!
Fixtures Close Up says….. Though gaining popularity in America, I find exhibits like this Nutella Freestanding Tower Display with QR more often in ethnic and European oriented grocery. My understanding is that use of a hazelnut base stems from an era when pure cocoa was cheaper in the USA than Europe … hence Nutella as a cost competitive continental alternative. But I like Nutella just as well, so Hersheys and others watch out!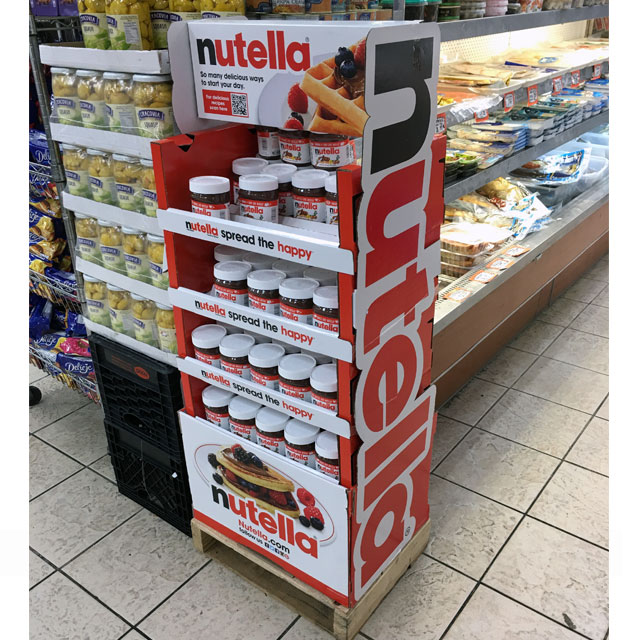 The riser encouraged shoppers to scan a QR code which took them to a webpage offering delicious Nutella recipes. The webpage touts…..'Everyone knows how good Nutella tastes on bread but there are also loads of other creative recipes to try out. Why not unleash your inner creativity and experiment with your favorite spread? Try something new to get a positive start to the day ahead!'
Check out a few other Nutella merchandisers below.
Related
Nutella Breakfast Never Tasted So Good Half Pallet
Nutella And Go Counter Display
Nutella & Go Floor Stand Stacker