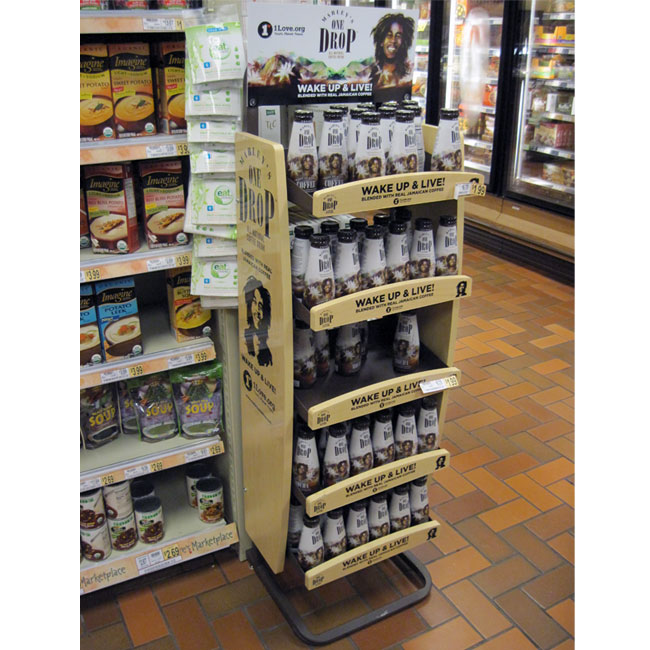 Marley Beverage Company was created in partnership with the family of Bob Marley, paying homage to their father and patriarch by launching and promoting a wide range of healthy, natural drinks.
According to their website, Marley's One Drop ready-to-drink blended coffee was created to honor Bob Marley's true roots of farming and love of coffee. One Drop is brewed with select premium Jamaican coffee and other natural ingredients. The coffee is available in three flavors: coffee, mocha and vanilla light.
Albeit, the display shown above is one of our older posts as the product is no longer available in the glass bottles as shown above. Originally introduced in 9.5 oz. glass bottles, Marley Beverages chose to move into the Rexam Sleek can back in 2013 because of its durability, portability and brand differentiation on retail shelves. The brand also benefits from using aluminum as it's the most sustainable packaging choice in the world based on recycle rates.
"There is nothing better than drinking an iced cold coffee beverage from a can," said Lee Brody, global marketing director, Marley Beverage Company. "We wanted to showcase the premium look of our Marley's One Drop line and help it stand out on the shelf. We were able to achieve both in a very powerful way with the Rexam Sleek can."
We refreshed this post because we like the display as well as the cause associated with the product. Purchases of Marley's beverage products benefit 1Love.org, the Marley family nonprofit initiative, which works to promote the legacy of their father by supporting charities that empower youth, protect the planet and promote peace.
The Display: This sturdy floor stand was quite durable and able to hold a lot of product. The frame was produced using square tubing which was slotted to accommodate various shelf heights. The sides of the display and shelf fronts were decorated with wood panels that covered up most of the metal sub-structure and gave the merchandiser a more natural-looking appearance. In addition to highlighting product assets, all of the branded surfaces called out the 1love.org messaging to bring attention to their cause marketing initiatives.