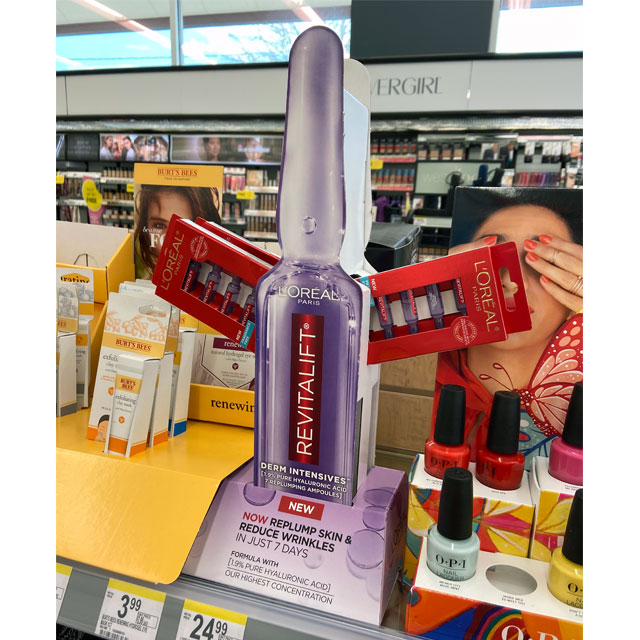 Visibly re-plump skin and reduce wrinkles in 7 days………that's what L'Oreal is promising shoppers who use their new Revitalift Derm Intensifies to help achieve youthful-looking skin.
"As the skin's natural hyaluronic acid production decreases with age, skin starts to feel stressed, dehydrated, and dull — and signs of aging appear. That's where hyaluronic acid — the all-time hero for younger, plumper-looking skin — comes in," explained Elisabeth Bouhadana, L'Oréal Paris global scientific director. "Our biological strategy? To compensate for the loss of hyaluronic acid."
Touted as the 'holy grail' of skin serums, Revitalift Derm Intensifies is so popular that one bottle is sold every minute!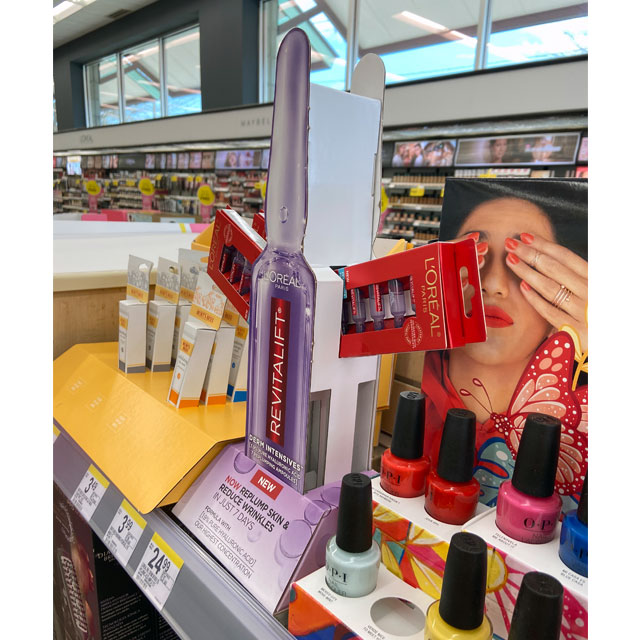 L'Oreal and Walgreens rolled out the new and improved Revitalift with this slick shelf display. The compact display features product replica die cuts of the pre-dosed ampoules on both sides of the unit. The secondary packaging, each containing 7 ampoules, is angled to create a fanned-out effect, adding a lot of visual interest on shelf.
Related
Revitalift Volume Filler Aisle Violater
Worlds No 1 Revitalift End Cap Display
L'Oreal Revitalift Volume Loss Floor Display
Sources include:
L'Oreal