Baking Comfort and Joy Since 1960
Celebrating 60 years in 2020, McKee Foods is best known for their line of Little Debbie brand snack cakes which is considered America's leading snack cake brand.
Little Debbie recently partnered with Ohio-based Kramer Graphics to develop a topper to dress up an existing retail fixture. The replica topper consisted of a large glass of milk surrounded by several Little Debbie products. Kramer handled all of the creative from rendering to production, employing several different substrates to achieve the final design.
What goes better with snacks than a big ole' glass of milk!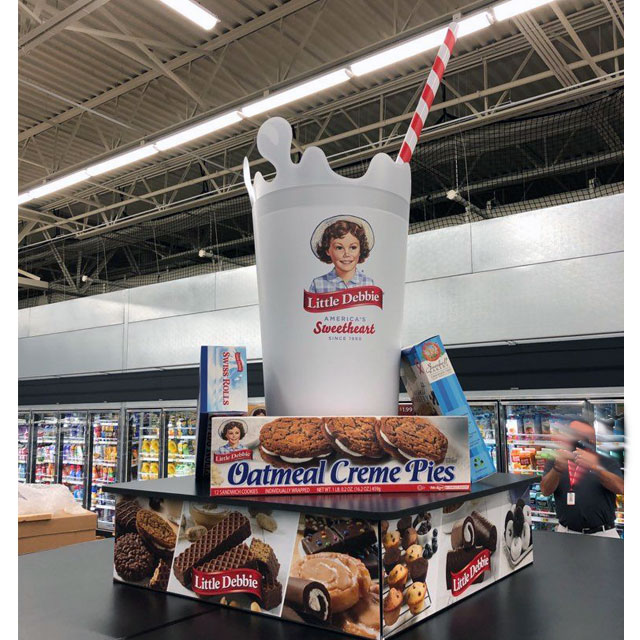 Related
Little Debbie Floor Stand Snack Stacker
Little Debbie Valentines Pallet
Little Debbie Unwrap a Smile End Cap Display
About Kramer
Kramer has been providing digital printing solutions for close to 40 years. Our professionals bring a "can do" attitude and a wealth of knowledge to every project. More than order-takers, the staff at Kramer is your source of information for the most cost-effective printing solutions. We ask questions and make suggestions to save you money. You'll be educated and advised on the solution that fits your exact quality needs coupled with your budget.
Exceptional quality with FAST turnaround is what sets Kramer apart from all other digital printing companies. Every project we complete is thoroughly examined and held to our very high quality standards. Due in part to our 24/7 operation, we often turn jobs around faster than our clients expectations.