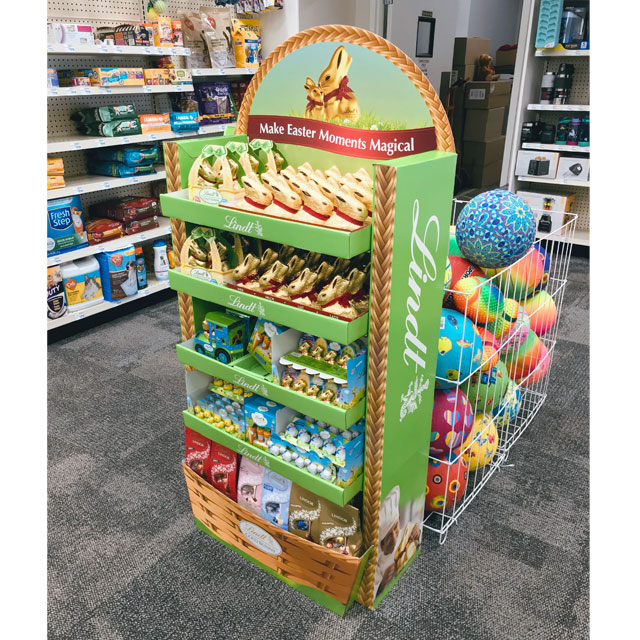 Celebrating 70 years of the Gold Bunny
Lindt's master chocolatier created the first Lindt Gold Bunny in 1952 and for over 70 years, the Gold Bunny has been an iconic treat enjoyed by 150 million chocolate lovers from more than 50 countries.
To celebrate turning 70, Lindt is offering several different sized bunnies that are available at a variety of retailers around the world. With Easter being right around the corner, the company is ramping up in-store promotions here in the US. We found them showcasing their gold bunnies in this seasonal floor stand.
The five shelf display held a variety of delicious chocolate candy with the top two shelves being dedicated for their limited-edition gold bunnies. The arc-shaped header depicted their iconic gold bunny and the campaign tagline 'Make Easter Moments Magical'. A weave pattern rounded out the top of the riser and was continued down the front of the display…..really great detail. The bottom shelf anchored the display with an Easter basket theme. This display is clean and classy!
Check out some other Lindt POP Displays
Lindt Since 1845 Floor Display
Lindt One Small Bunny Floor Stand
Lindt Gold Bunny End Cap Display
Lindt Something Special Brown Floor Display
Unwrap Something End Cap Display