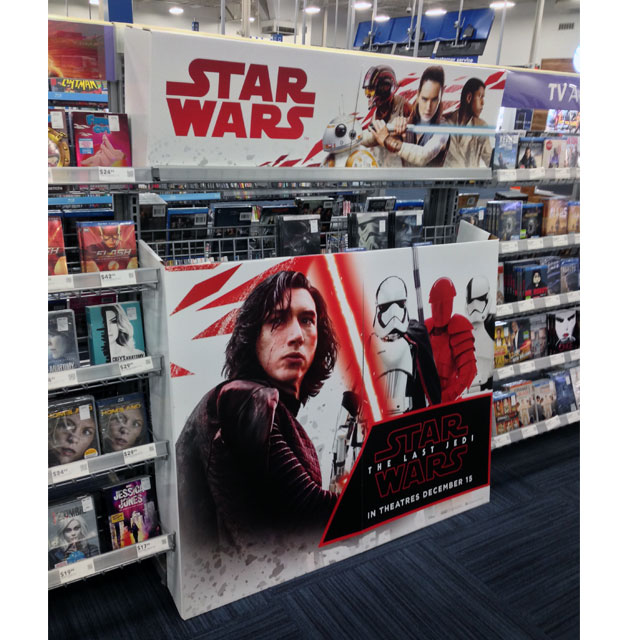 Whenever any Star Wars movie is set to hit the big screen, the marketing buildup is usually second to none. The latest release, Star Wars: The Last Jedi is the second film in the Star Wars sequel trilogy, following Star Wars: The Force Awakens. The Last Jedi is scheduled to premiere in Los Angeles on December 8, 2017, and be released in the United States on December 15, 2017.
In anticipation of the movie debut, almost every major retailer in the US is carrying some sort of Star Wars branded product. From toys to electronics, shoppers can find a variety of items that would make great gifts this holiday season. On a recent store check at Best Buy, we spotted several Star Wars POP displays across the store. One of them was this large, inline unit that really stood out in the long racking the retailer uses to merchandise their movies.
This display is a great way to bring attention to new movie releases but it does consume a lot of space in the racks, eliminating several facings that would normally be shelved where the display was positioned.
Check back as we have a new article for another Star Wars-Best Buy display that will be published soon.
In addition to the links below, you can visit the gallery to view more star wars displays. Type star wars into the keyword search box once you land in the gallery.
Related Links
Star Wars Sphero Shelf Display