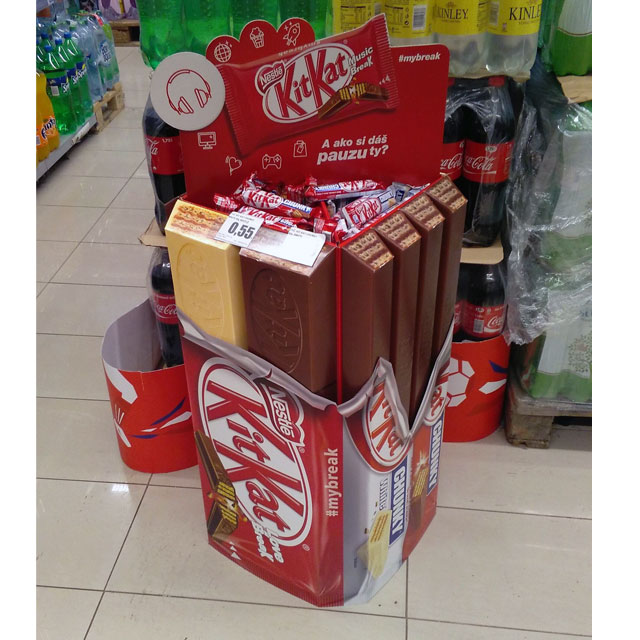 As part of their ongoing #mybreak promotion, Kit Kat continued in-store support with this awesome floor display. The mybreak campaign was built around several themes such as #mycomdeybreak, #mygamingbreak, #mygreenbreak, #mymusicbreak, #mysportsbreak and #mytravelingbreak. All of these celebratory themes encouraged brand-loyal fans  to take a break and have a Kit Kat while enjoying their favorites activities.
In addition to retail POS, the campaign also included plenty of media support such as TV, U-Tube and of course, the social platforms. Consumers were able to engage using the hashtag #mybreak and were also able to enter drawings to win Kit Kat-branded prizes.
The eye-catching floor display featured in this article was produced by STI Group. Outstanding design with lots of mouth-watering appeal!
About STI Group
STI Group stands for innovation capacity. We understand the requirements of brands, retailers and shoppers.
We set trends with our tailored packaging and POS concepts. Our many national and international awards show our strength in this area.
More than 100 of our employees work in product development, process optimisation and process innovation across the Group. Close collaboration between our plants and design centres ensures:
direct communication
access to a pool of talent and ideas
faster production processes
prepress and production support in close consultation with our customers
selection of the best-suited production location and punctual delivery