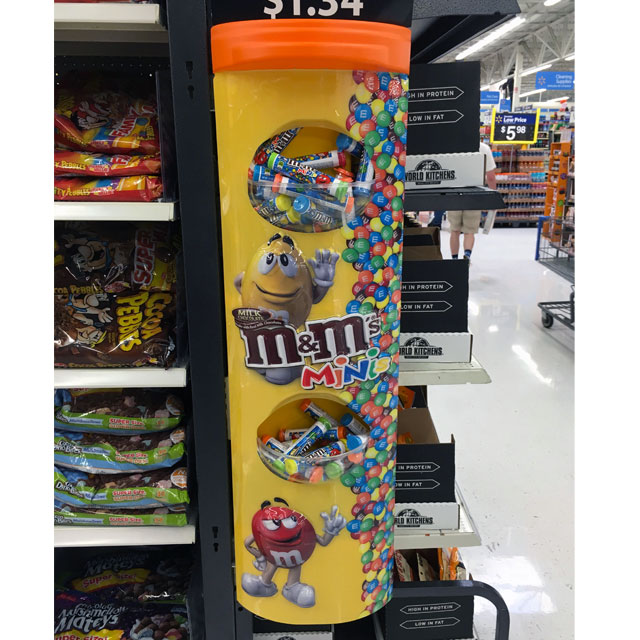 M&M'S is commemorating their 75th anniversary in 2016 with a year long celebration for their fans who have made their products some of the most popular on earth. M&M's will be reaching back to their roots, which started in 1941, with several events that highlight their rich history.
In a recent press release, "For 75 years, our fans have made M&M'S the iconic and beloved chocolate brand it is today," said Berta de Pablos-Barbier, Vice President, Marketing, Mars Chocolate North America. "We aren't satisfied with solely looking back on our history as America's favorite chocolate candies. We are looking to the next 75 years of innovation and transformation to engage, entice and excite consumers of today and tomorrow."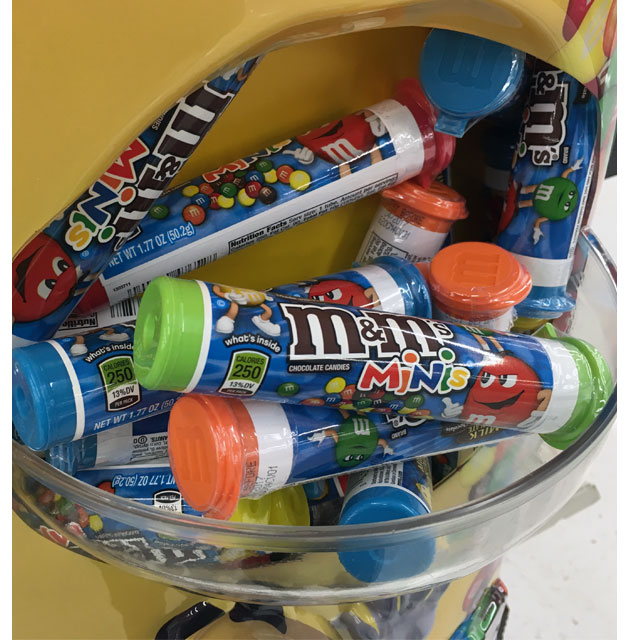 Not directly related to the anniversary celebration, but more so to Mars expert in-store marketing activities, the brand recently launched this side kick to promote their Mini size candy.
Spotted at Walmart, the display merchandises M&M'S Mini Size Milk Chocolate Candy in handy To-Go Bottles. The entire unit was designed and constructed to resemble a mini bottle which gravity fed the delicious treats into two plastic catch basins.
Two of the M&M characters and brand logo were molded into the display shell which gave the yellow and red characters a glossy dimensional effect. The orange cap provided the finishing touch and brought the product replica to life.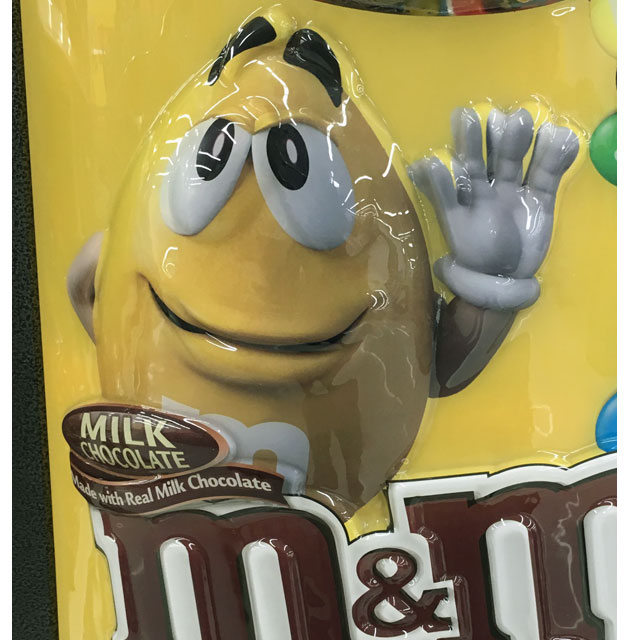 Related
Grab Some Fan Favorites Dump Bin Floor Display
Grab Some Fan Favorites Rolling Candy Display
About Mars, Incorporated
In 1911, Frank C. Mars made the first Mars candies in his Tacoma, Washington kitchen and established Mars' first roots as a confectionery company. In the 1920s, Forrest E. Mars, Sr. joined his father in business and together they launched the MILKY WAY® bar. In 1932, Forrest, Sr. moved to the United Kingdom with a dream of building a business based on the objective of creating a "mutuality of benefits for all stakeholders" – this objective serves as the foundation of Mars, Incorporated today. Based in McLean, Virginia, Mars has net sales of more than $33 billion, six business segments including Petcare, Chocolate, Wrigley, Food, Drinks, Symbioscience, and more than 75,000 Associates worldwide that are putting its Principles into action to make a difference for people and the planet through its performance.
Mars brands include: Petcare – PEDIGREE®, ROYAL CANIN®, WHISKAS®, BANFIELD® Pet Hospital, CESAR®, SHEBA®, DREAMIES® and NUTRO®; Chocolate – M&M'S® ®, SNICKERS®, DOVE®, GALAXY®, MARS®, MILKY WAY® and TWIX®; Wrigley – DOUBLEMINT®, EXTRA®, ORBIT® and 5™ chewing gums, SKITTLES® and STARBURST® candies, and ALTOIDS® and LIFESAVERS® mints. Food – UNCLE BEN'S®, DOLMIO®, EBLY®, MASTERFOODS®, SEEDS OF CHANGE® and ROYCO®; Drinks – ALTERRA COFFEE ROASTERS™, THE BRIGHT TEA COMPANY™, KLIX® and FLAVIA®; Symbioscience – COCOAVIA® and WISDOM PANEL®.