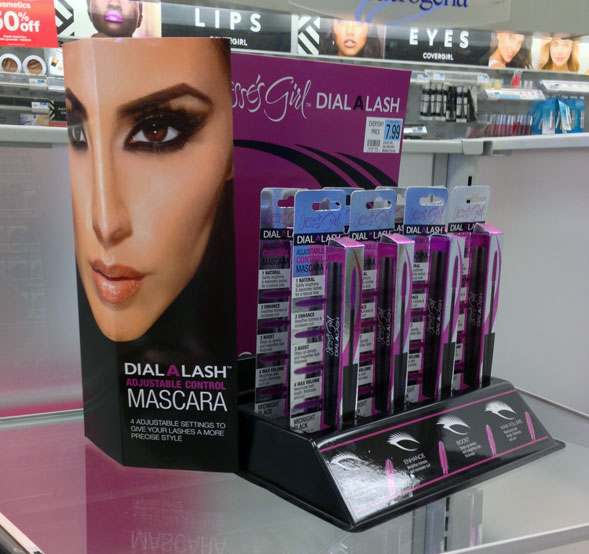 Jesse's Girl Dial A Lash Mascara Display
Since its 2005 debut in the beauty industry, Jesse's Girl has doubled its growth and maintains a presence in more than 3,000 U.S. based stores. With so many cosmetic users switching to budget brands, Jesse's Girl has capitalized on this trend by creating high-quality products with reasonable price points.
The brands new mascara is one of the latest product innovations which was recently spotted on shelves in  several U.S. drug store retailers. The new product touts………Jesse's Girl Dial-A-Lash allows you to increase length, volume, and curl with each setting using the twist wand to reveal 4 unique settings.
The display shown above, which was located at Rite-Aid, is a simple, plastic vac-form that illustrates the product features on the angled front lip. The purpose of highlighting this display is to bring attention to the way the triangulated side graphic panel was designed.
Hard to discern from the image, so if you see this display in-store, give it a closer look. The angled graphic panel was designed to 'push inward' (flatten out) during transit to reduce the display's shipping footprint. When removed from its shipper, the panel automatically 'popped outward' into a set-up position. Nifty idea!
Check out some other copy panels that incorporate self-assembly features into them.
Vicks Copy Panel Springs Into Action On Shelf
Retailers Flip Over Pre-Attached Riser
CVS Expands Healthy Living Product Line