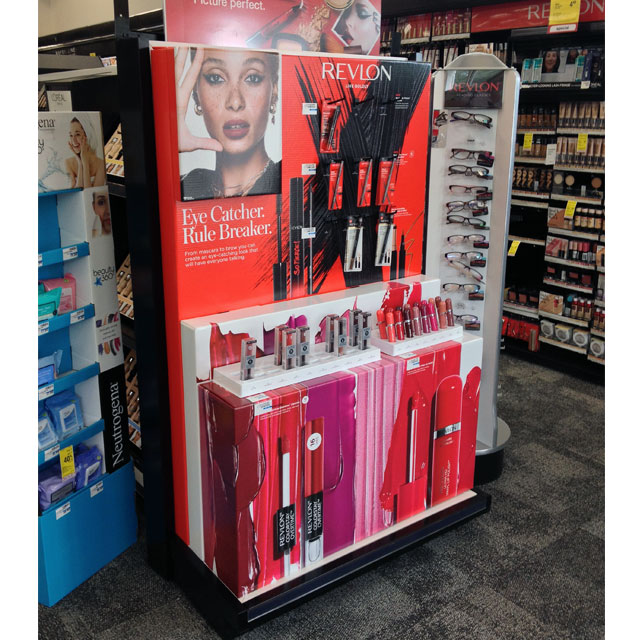 In order to survive in the very competitive makeup and skincare industry, global beauty brands, such as Revlon, must continue to innovate and spend heavily on in-store and online marketing.
Last year, beauty-product sales including color cosmetics, fragrances, hair care and skin care grew 5.9% to $302 billion globally, according to a June report by JPMorgan Chase & Co.
Revlon Takes Innovation In-Store
Revlon and CVS are breaking all the rules for achieving shiny lips with this end cap display that borrows its 'design cues' from the table-styled fixtures typically found in major department stores.
Lush, streaky graphics on the lower portion of the display visually support two vacuum formed trays of product: Colorstay Overtime and Ultra HD Vinyl Lip Polish.
Above the lip color trays, on the large, rear copy panel, additional products for the brows were neatly arranged on plastic display hooks. The product mix on the display was supported by vibrant imagery and the marketing theme – 'Eye Catcher – Rule Breaker'.
On a side note, after this past Labor Day, Revlon began the process to  secure a buyer to help turn around the company's falling domestic sales and to renew their growth strategy on international opportunities.
Related
Revlon Lacquer Balm Replica Floor Display
New Beauty From Revlon End Cap Display
Revlon Gotta Have It Inline Display
Sources include:
Bloomberg