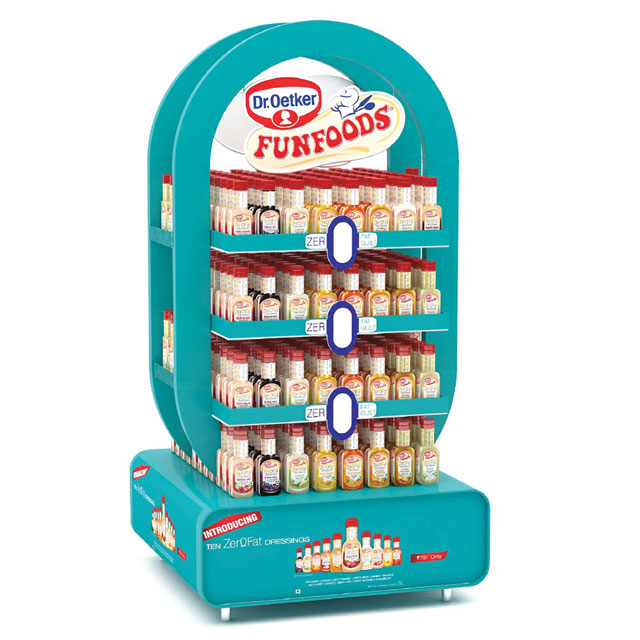 FunFoods recently rolled out this innovative floor display for their new Zer0 Fat Dressings range at 100+ locations. Designed by Delhi-based Point-of-Sale (POS) and signage manufacturing firm Amitoje India, the display drives home the brand's message – 'Taste mein Hero, Fat mein Zero' while helping consumers pick from an exciting new range of flavors with ease and accessibility.
"The objective behind the in-store campaign was to catch the attention of the shoppers with a quirky display unit showcasing the innovative range of Zer0 Fat Dressings," the brand said.
Talking about the design of the zero-shaped display, managing director Maniraj Singh Juneja explained, "Even though the unit's design is not typical, we suggested to the client that we could make it modular. We designed it in such a way that it could be shipped flat and assembled without any tools. The sales team was able to easily assemble the displays without any training. We did not get any complaints regarding damages.
He further added, "We also helped the client save least 30 to 40 per cent on cost due to the right packaging, transportation, installation and minimized damages. We do this regularly at Amitoje India as our motto is -'Making lives easy''.
FunFoods said that of the total marketing budget, around 10% was spent on in-store marketing.