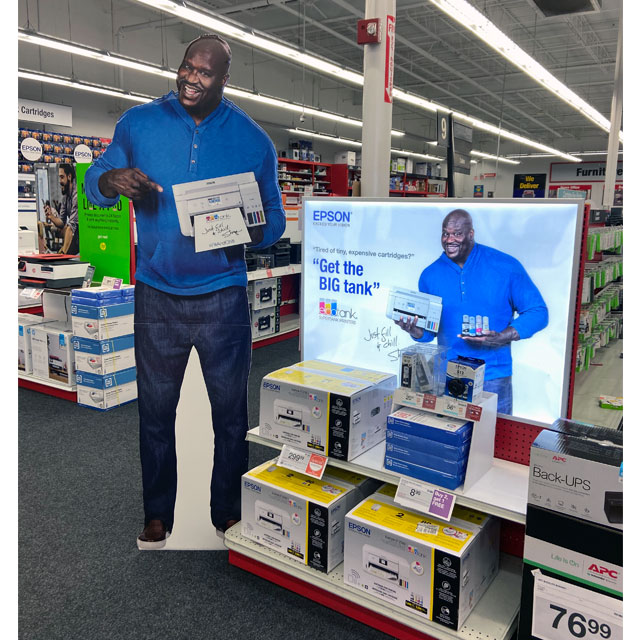 Shaq Inks Deal With Epson
Papa John's, Ring, Gold Bond, The General, Icy Hot and Carnival are just some of the wide-ranging product endorsement deals that basketball legend Shaquille O'Neal is repping these days.
Shaq was recently spotted in Staples endorsing his latest partnership with Epson to promote a new line of EcoTank printers that use refillable ink cartridges. The cartridges are being touted as lasting up to 15 times longer than the expensive prefilled ink cartridges that can cost close to $100.00 a set.
As reported on USA Today……….."I have four college degrees," Shaq said at a press conference. "But would someone tell me what a Magenta is?" referring to one of the colors usually required for color printer ink refills.
Epson and Shaq are encouraging Staples shoppers to "Get the BIG Tank" with this dedicated end cap which offered a few of the new printers, paper and refill cartridges. The display features an illuminated graphic panel and a life-size standee of Shaq , which was visible across store aisles.
Judging from some of the images on the brand's twitter page….hashtag #fillandchill………..looks like several shoppers are enjoying snapping selfies with the Shaq standee!