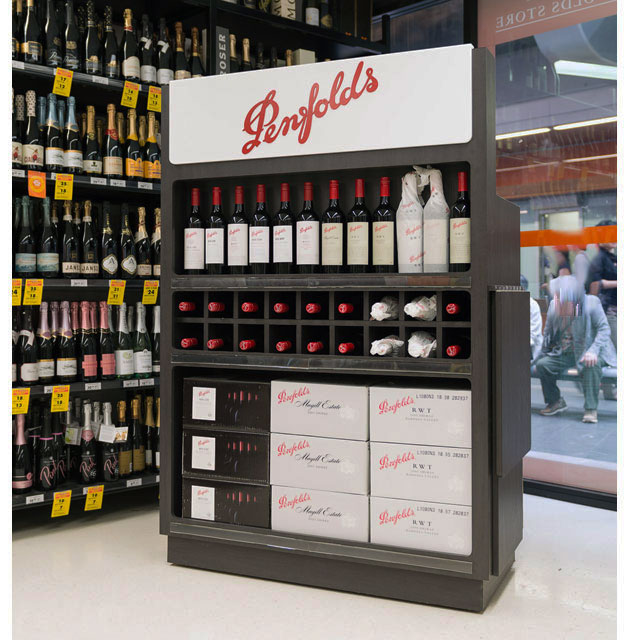 Creative Instore Solutions Wins Shop! Global Award For Treasury Wine Estates in Global Awards Alcoholic Drinks, Permanent in the 7th Annual Competition
Creative Instore Solutions announced today that it has won a Shop! Global Award for Treasury Wines Estates Pinnacle of Premium Wines in Alcoholic Drinks, Permanent the 7th Annual Shop! Global Awards. Hailed as the marketing-at-retail industry's highest honor, the Shop! Global Awards, presented by Shop! association, is the leading international award honoring excellence in marketing at retail.
The winning display was required to showcase a range of Penfolds product by BIN #, while ensuring each SKU was glorified and also allowed for the product stored in singles and cases. The unit which is a 360-degree shop-able display had to be visually appealing from all sides, especially being showcased in the store window.
Ultimately the clean modern design, with black timber acted as a frame for the featured bold Penfolds branding and a "Vino Bonito" glorfiying shelf module which became the cabinet hero. The inclusion of cellar orientated singles storage, a hero shelf on the reverse of the unit ensured maximum impact from all angles.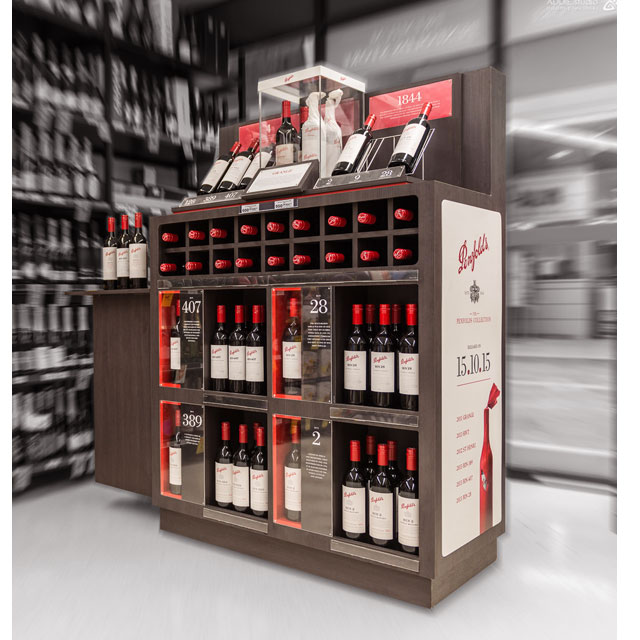 "Companies like Creative Instore Solutions (CIS) are setting the standard for innovation and creativity in the point-of-purchase and marketing at retail industry," said Steven Weiss, CEO of Shop!. "The Global Awards are run in 24 countries globally, and this year we received 63 entries. The winners represent the international best-in-class of in-store marketing initiatives. Congratulations to Creative Instore Solutions for achieving this incredible honor."
"We at CIS are extremely pleased to be recognized by Shop! as a global leader in innovation and design in the point-of-purchase and marketing at retail industry. We are thrilled that activation success for our client, Treasury Wine Estates, has been recognized within the industry's most prestigious award events. It is an honour our entire team are exceptionally proud of. " said Lee Brown, Vice President – Sales & Marketing, Creative Instore Solutions.
Treasury Wine Estates National Category Development Manager, Dan Wales, said: "Treasury Wine Estates is focused on delivering outstanding in-store executions that disrupt shoppers and entice more people to the wine category. Visually striking and engaging displays are important for driving shopper conversion in the category and in turn maximizing category sales. We have received fantastic feedback on this particular display and are delighted that it has received global recognition."
About Creative Instore Solutions
Established in 1995, Creative Instore Solutions is a global point of purchase design and manufacturing powerhouse that blends creativity with structural engineering to conceive sustainable designs which drive incremental sales. It's an award winning combination that sees them work with some of the world's best known global brands. CIS, whose head office is in Sydney, have offices in North America and Europe, managing a global network of design and logistics with manufacturing out of their China industrial centre.
CIS' client base includes PepsiCo, Mars, Schweppes, Woolworths, Microsoft, Lion Nathan, Bacardi, Panasonic, Vodafone, Hewlett Packard, Garmin, BIC, Kellogg, Ferrero, Asahi, Treasury Wine Estates, Stuart Alexander & Co. and Philips.