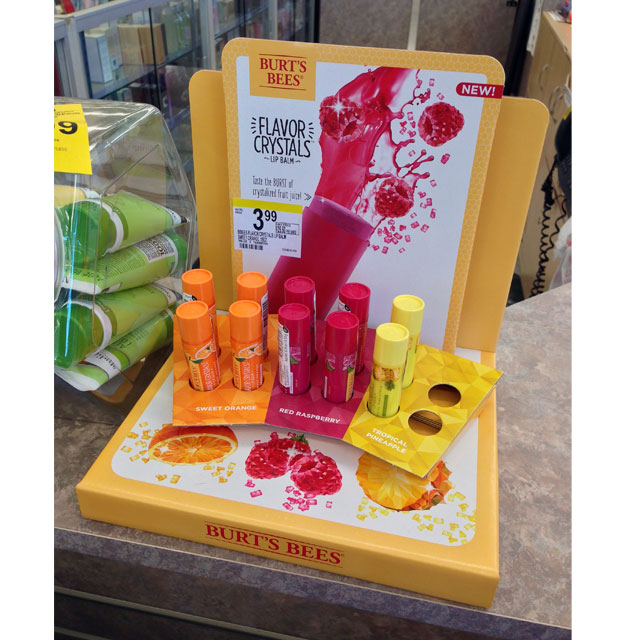 Flavor Crystals Offer Sweeter Moisturized Lips
Burt's Bees is buzzing at retail with their recently launched flavor crystals lip balm. Formulated with hydrating beeswax, coconut oil and sunflower oil, their latest innovation keeps lips moist, soft and smooth.
On average, Burt's Bees products are 99% natural……over half are 100% natural. Staying true to their sustainable heritage, Flavor Crystal Lip Balm is made with 100% natural ingredients and the packaging is 100% recyclable.
The brands new variants were spotted at a major drug store retailer representing their natural goodness on this refreshing-looking counter display. Available in three fruity flavors, Sweet Orange – Red Raspberry – Tropical Pineapple, each variant was neatly separated on a colorful, raised platform. Luscious fruit images on the riser and in front of the product added impact and made for a delicious presentation in store. Can't say enough about the consistent marketing efforts Burt's Bees devotes to their Point of Purchase Displays.
In addition to the links below, you can visit the gallery to view more of their promotional collateral. Type burt's bees into the keyword search box once you land in the gallery.
Related
Burt's Bees Warmest Wishes Floor Display
Finally A Lipstick Shelf Display
Nature Knows Color Shelf Display
Fixtures Close Up – For additional Burt's Bees research, copy and paste this link into your browser https://www.fixturescloseup.com/index-burts-bees/