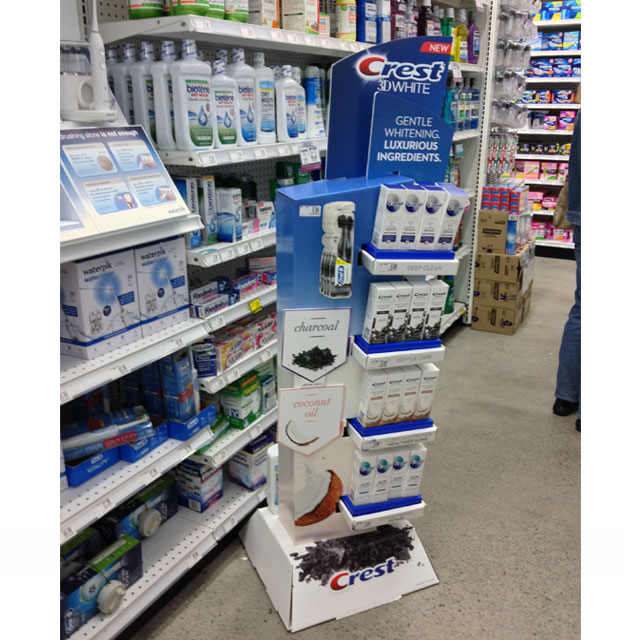 Toothpaste brands seem to be hopping on the charcoal bandwagon and for good reason….charcoal uses the same principles as most whitening agents found in over-the-counter toothpaste. One of those brands, Crest, recently launched two new variants to compete in the whitening therapy category.
Crest Charcoal is formulated to gently whiten teeth by removing surface stains. The paste is black and white striped, and whitens without the mess of charcoal powders.
Crest Coconut Oil is a remineralizing toothpaste designed to nourish teeth, strengthen enamel and beautifully whiten.
Both variants are being promoted nationally in all of the major retailers with a variety of POP collateral. The floor display shown above was spotted in Bed Bath & Beyond in the oral care aisle.
Consisting of four product trays, the angular display does a nice job bringing immediate attention to the Charcoal and Coconut Oil products with die cut lug-ons mounted on the left side of the display. Further emphasis for the Charcoal variant was achieved with the smudgy charcoal image on the base. In an effort to cross- sell, Crest included some toothbrushes on hooks so shoppers could pair one up with any of the oral care products.
If you would like to view more Crest displays, visit our gallery. Once there, type the word crest into the keyword search box and click enter or use the magnifying glass button to activate your search.
Related
Crest Oral Health Brand Floor Display
Sources include:
Crest