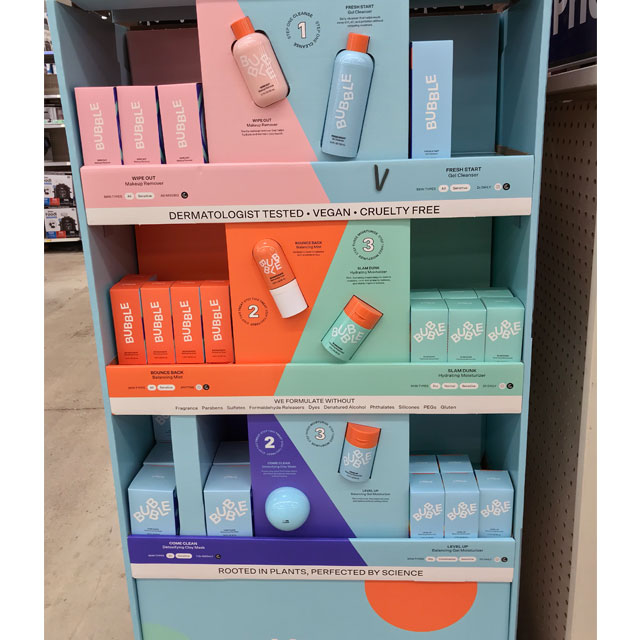 After two years of working with dermatologists and product developers, teen skincare brand Bubble has launched their products in over 4,000 Walmart stores in the US. Walmart has picked up Bubble's entire cruelty-free, vegan skincare range which do not contain denatured alcohols, parabens, artificial colors or synthetic fragrances.
Shai Eisenman, founder and CEO of Bubble shared in a statement. "It made no sense to us that teens were stuck with options that hadn't evolved and that didn't deliver on what they really needed and wanted. In order to truly change the industry, we needed to find a retail partner who understood our mission and foundation."
After almost doubling the number of new beauty brands this past year, Walmart is no stranger to the challenges facing emerging brands which is why Bubble chose them to help with their debut into retail. Walmart is hoping to invigorate their beauty aisles with Bubble's positive messaging and colorful packaging.
Eisenman lauds Walmart for supporting Bubble throughout the daunting process of a major retail launch. "It's the first time a full on DTC skincare brand is going into every Walmart store," she says. "It's a partnership that all the senior management of Walmart is very involved in. It's been a true partnership across everything, in the thinking of the marketing and influencers and celebrities, everything."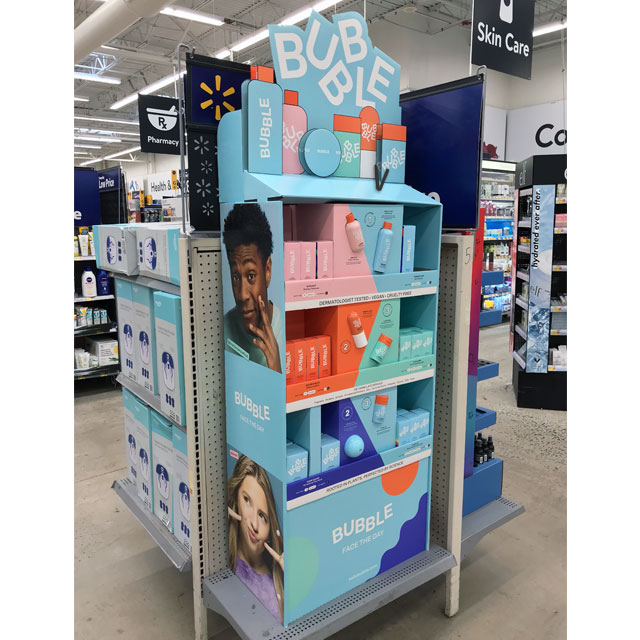 Bubble's strategic launch at Walmart during the back-to-school season should help sales as industry expectations forecast a more positive and profitable shopping season. In an effort to offer Bubble high visibility in-store, Walmart dedicated end cap and 4-way fixture space for this really nice launch display.
The brightly colored display consisted of three shelves with dividers splitting them into two compartments. The dividers were designed with die-cut windows on them where live products were placed and secured in place.
Bubble may be a new brand, but it already has some celeb fans as spokespeople. Both sides of the display capitalized on showcasing a few of Bubble's fans by printing large images of their brand ambassadors. An enormous riser with dimensional lug-ons completed the display…..A+ on execution across the board!
Sources include:
Teen Vogue
Beautyindependent.com