Adjustco has reinvented the traditional barrel bolt lock with the world's first adjustable catch bolt lock
Distributed by Hillman Companies, Inc., Adjustco produces a series of self-adjusting barrel bolt products that solve the age-old problem where doors, gates and stalls get misaligned due to loosening of hinges or swelling of floors, rendering traditional surface bolt locks useless.
As noted on the brands website, AjustLock launched in 2013, as Ajustco's flagship product, and has since been recognized with industry awards for both product and packaging innovation.  The product's inventor, and Ajustco's CEO Jason Stile notes "We are thrilled to be partnering with an industry leader like Hillman, who we feel is better suited than anyone to elevate AjustLock's presence in hardware stores all across North America."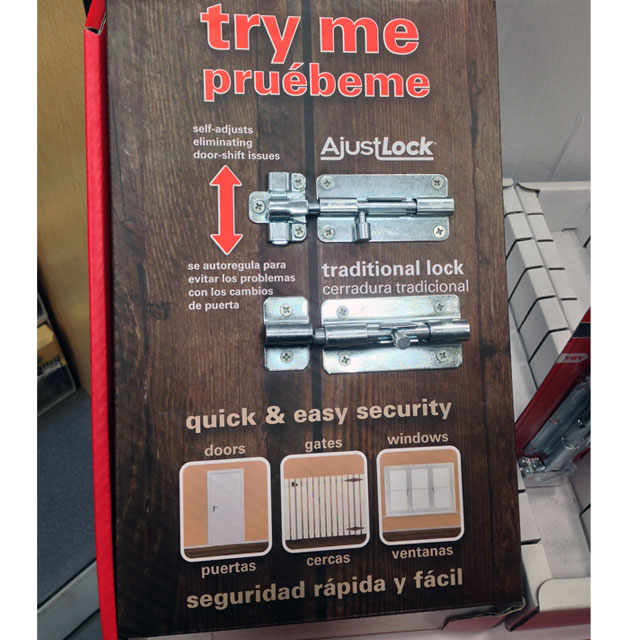 Interactive POP displays are a great way to engage shoppers and demonstrate the features of a product, which is exactly what Adjustco needed to help sell their line of security solutions in home improvement stores.
In addition to large and informative graphics, this display also incorporated an extremely useful Try Me panel. The panel consisted of two live barrel bolts…..one being your 'traditional style' and the other an adjustable Ajustlock catch bolt. This interactive side-by-side comparison was a deal sealer as shoppers could see the immediate differences between both options, with the Ajustlock being the best-in-category solution.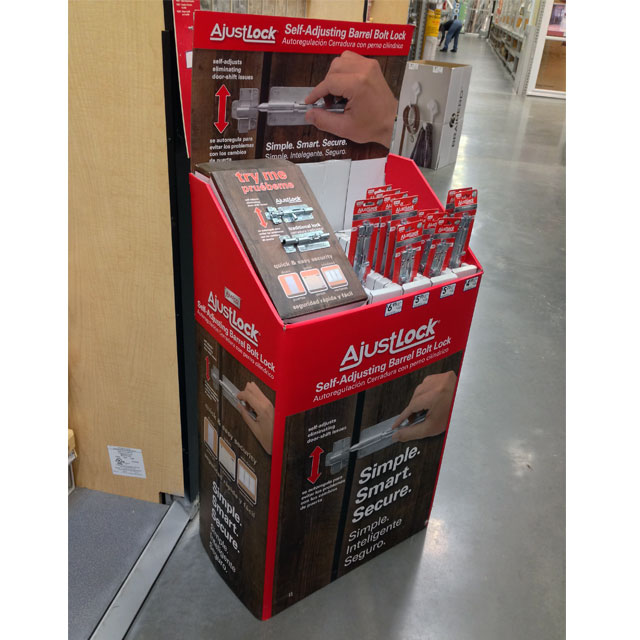 If you have a minute, watch this You Tube video where the brand's co-founders discuss the evolution of their product and company. It's a great story of ingenuity and success.
Check out some more interactive displays from our gallery by using the links below. Feel free to use the image gallery's robust search tools to find additional inspiration!
Related
Pentel Your Choice Floor Display
Gillette Less Skin Aisle Violater
Fluidmaster Click Seal Try Me Display
Vaseline Feels Good Demo Shelf Tray
About Ajustco, LLC
Ajustco is the inventor and manufacturer of AjustLock, a patent-pending barrel bolt product. Based in New York City, Ajustco is run by Co-Founder and CEO, Jason Stile, and incubated by established marketing agency, Blueliner Marketing. Blueliner CEO, Arman Rousta, is also a Co-Founder in the company. Ajustco is a product development company that solves common problems with practical solutions. For more information please go to www.ajust.co or call Public Relations at 855-258-7826 ext 7.
About Hillman
Founded in 1964 and headquartered in Cincinnati, Ohio, Hillman is a leading distributor of fasteners, key duplication systems, engraved tags, and related hardware items to over 26,000 retail customers in the U.S., Canada, Mexico, South America, and Australia, including home improvement centers, mass merchants, national and regional hardware stores, pet supply stores, and other retailers. Hillman provides a comprehensive solution to its retail customers for managing SKU intensive, complex home improvement categories. For more information on the Company, please visit our website at http://www.hillmangroup.com or call Investor Relations at (513) 851-4900, ext. 60292