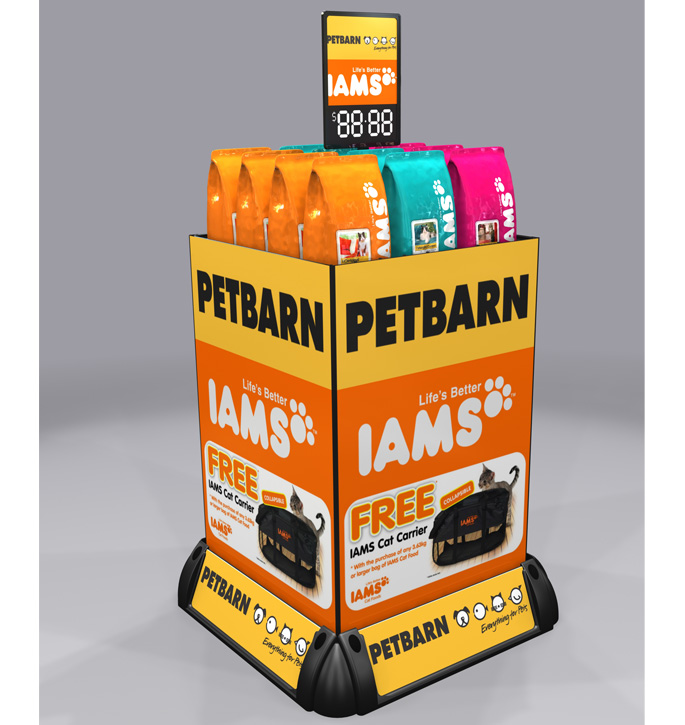 Walls + Forms Inc. just introduced Mini Pallet Promota™, a modular, robust pallet display system designed specifically for promoting palletized or bulk stacked products. It is easy to activate in-store and can be used for promoting beer, wine, and other beverages; groceries; hardware; pet products; consumer goods; bulk packaged products; toys and games; and additional products as vast as one's imagination. This system can also be used as an impactful and unique exhibition system.
Mini Pallet Promota™ is versatile in application. It can be activated as a pre-packaged display or as a permanent in-store fixture. This eye-catching system enhances branding and visual aesthetics. It is the perfect vehicle to transform traditional floor displays into prominent merchandising systems that capture the consumer's attention. Mini Pallet Promota™ also provides a neat and tidy display visual to complement the quality image of a store.
This display system is an excellent retail space claiming solution. It enables you to easily expand the merchandising footprint by interlocking multiple modular mini pallets. Two sizes are available. Ergonomic base graphic wedges accommodate engaging promotional signage that attach to the mini pallets or can be used independently to surround existing pallets or various sizes. This provides an adjustable display edge that is smooth and attractive.
Pre-packed Mini Pallet Promota™ display contents include a base, four full wedges that store multiple graphics, four corner joiners, plus a sign and three piece spigoted pole. This system has an 800 kg load capacity and can be forked in-store with a pallet jack or fork lift. Its heavy duty injection moulded base and wedge surround insures a long lifespan.
Mini Pallet Promota™ can be used to create high-impact floor/island displays for any environment. It is ready to go; there is no need for professional installers. The system is easy to assemble – no special tools are required; this minimizes installation time and labor costs. In-store activation can be achieved by activating with promotional signage, add-on accessories, and merchandising frames. The Scopic Pole System is adaptable to the Mini Pallet Promota™. Mini Pallet Promota™ enables you to grow your display from a single product island display to a multi-product gondola.
Mini Pallet Promota™ components include a full and half Mini Pallet Promota, Wedge Promota, 36mm pole spigot, mini pallet wedge joiner, mini pallet base and half mini pallet base, full and half mini pallet wedge, mini pallet joiner and corner joiner, mini pallet wedge joiner, base pole connector, and a sign holder and post.