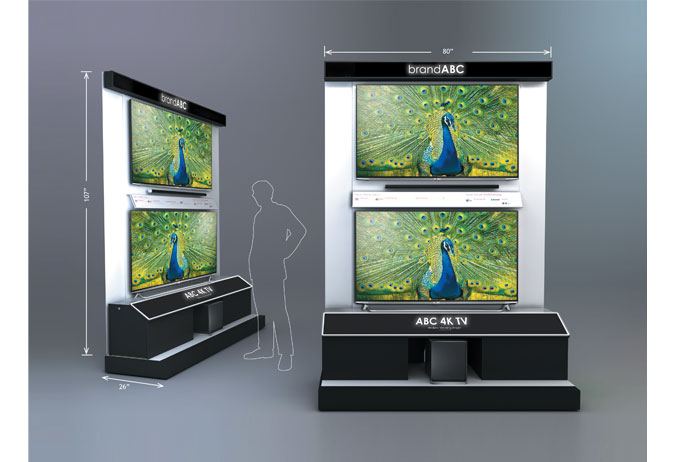 Walls + Forms, Inc. introduces the new Wall Skinning display, a transformative wall unit designed for electronic product display. With a slim profile, wiring concealment, and design flexibility, the Wall Skinning is the perfect solution for "live" TV and audio displays.
The Wall Skinning has countless display capabilities, and has the capacity to house up to two 70″ TVs. Graphic shelves, with LED lit edges, can be mounted to showcase any accompanying products or literature. Other options include a sound bar ledge or equipment "cubbies" for a sub-woofer to create a surround sound experience.
Walls + Forms understands that the demands of the retail industry are high; therefore your retail fixture requires flexibility to keep up with those demands. The Wall Skinning display offers interchangeable magnetic graphics, allowing you to adapt your brand messaging to different campaigns. Fixture components, including signage, shelving and pedestal bases can also be rearranged to accommodate product changes.
A backlit header gives you the ability to illuminate product logos and optional LED track lighting is also offered for additional "eye-catching" appeal.