Pfizer Offers Head To Toe Pain Relief
Pfizer rolled out this end cap display at CVS which promoted two of their top pain management products….Advil and Thermacare. The "Get Powerful Relief for Tough Pain" message was supported by several SKU's of both variants. An angled copy panel added additional call-outs which reinforced the combined power of Advil and Thermacare 'From Head To Toe' copy. Simple but quite effective.
Related
Before It Gets Worse Side Kick
Thermacare Bonus Free Wrap Tower Display
Thermacare and Advil Stanchion Display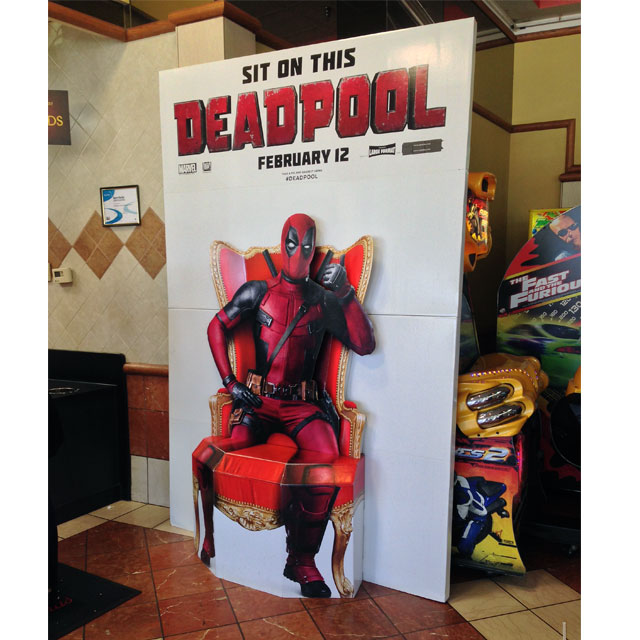 Deadpool Display Sits In Major Theaters
Deadpool is a 2016 American superhero film based on the Marvel Comics character of the same name. It is the eighth installment of the X-Men film series, and is directed by Tim Miller. According to Wikipedia, Deadpool was released on February 12, 2016, in North America in IMAX, DLP, D-Box and premium large formats. The film has broken numerous box office records and generally received positive reviews as the highest-grossing R-rated comic book film.
In addition to the typical move release advertising, Deadpool floor displays, like the one above, were released to theaters across the U.S. The dimensional advertiser consisted of two layers, with the topmost layer giving the visual impression that the main character was actually sitting on a chair.
Related
Sponge Out Of Water Movie Display
The Martian Movie Floor Display
Crimson Peak Movie Floor Display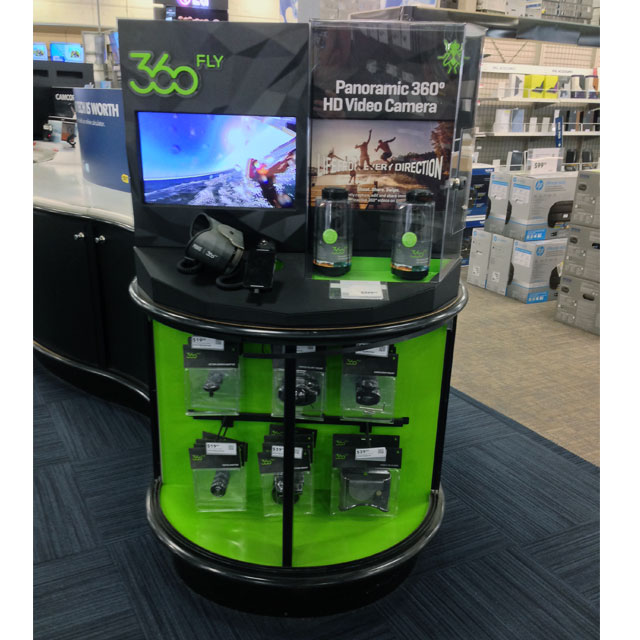 360fly Hits Shoppers From Every Direction
The 360fly 360 Degree Action Camera is unlike any camera previously created. It's a camera that captures your world in 360 video format and is optimized for mobile devices and social platforms. Just shoot, share and swipe. The ability to share a story from a 360° perspective has become increasingly appealing over the last year
which is leading to a huge push from several tech companies to produce 360° cameras.
360fly landed a great spot in Best Buy on the end of this island fixture. The 180° merchandising space was the perfect spot for the brand to showcase the camera as well as a few accessories. The Interactive space included a live product and monitor. The cameras were securely locked up in an acrylic enclosure.
Related
Gopro Be a Hero End Cap Display
Gopro Be a Hero Pallet Display
Gopro Be a Hero Holiday Floor Display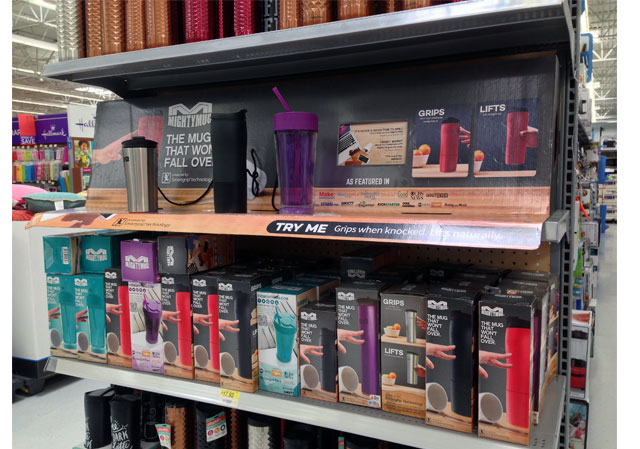 Mighty Mug Shelf Display Entices Shoppers To Try Me
Featured in over 100 publications and TV shows worldwide, Mighty Mug is the world's only mug that grips to surfaces when knocked into. The mug uses Smartgrip Technology which creates a powerful airlock when placed on a flat surface. This technology is what keeps it from falling over if bumped or pushed.
Mighty Mug was busy promoting at Walmart's across the U.S. with this end cap shelf display. Consisting of a corrugate back support that has an extended shelf graphic and lip, the display encourages shoppers to interact with the tethered mugs. In-use imagery and 'As Featured In' graphics help support product attributes.
Related
Mason Jar 6 Piece Demo Shelf Display
Duck Dynasty Tumbler Stacker Trays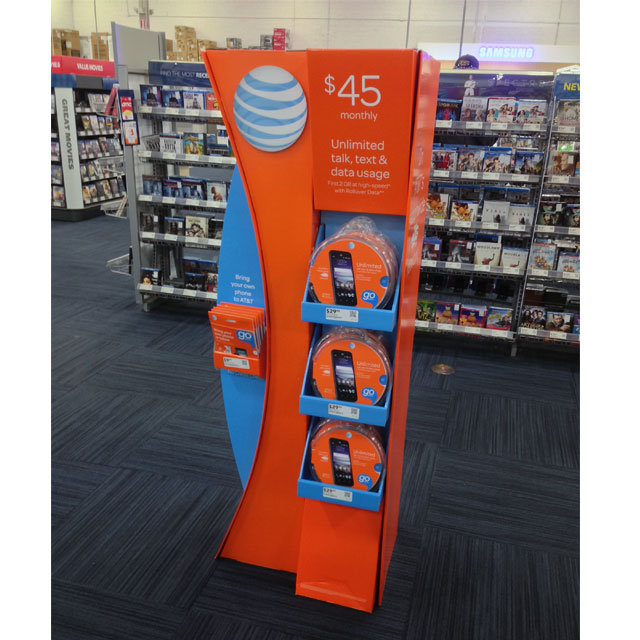 AT&T Offers Shoppers The Unlimited Plan
AT&T recently promoted their GoPhone plan at Best Buy with this very attractive display. Several online reviews have touted that the GoPhone is one of the best plans out there for prepaid devices that don't require annual contracts.
The brightly decorated floor stand was designed to offer products on both sides of the unit. Besides the great color scheme, the eye-catcher on this one are the curved  fins on the side of the display. In addition to merchandising product, these elements gave the display a sleek, contemporary look.
Related
Verizon 4G Contract Plan End Cap Display
AMP Up Your Data Floor Display