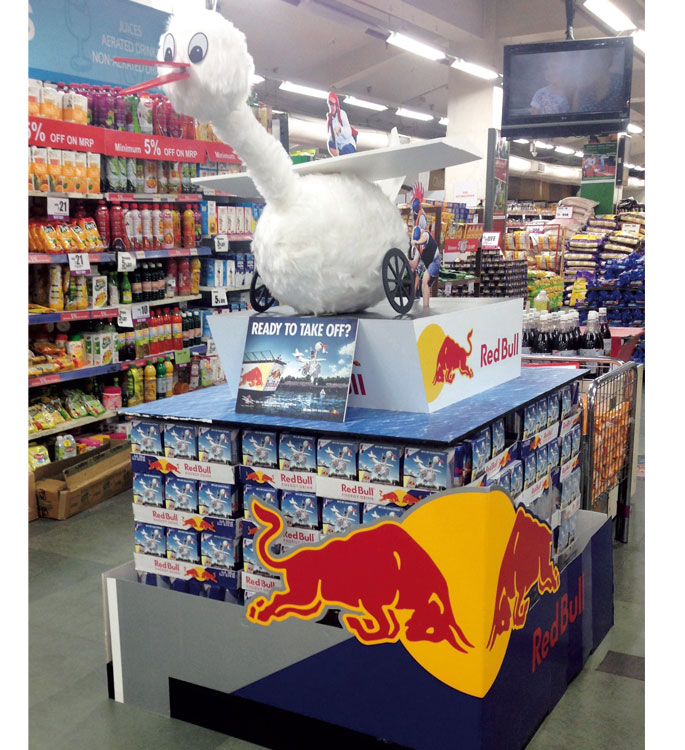 Flugtag (pronounced Floog Taag, which is German for Flying Day) is an event where teams are challenged to create human-powered flying crafts to see who can go the furthest by jumping off a 22 foot-high flight deck to soar over a body of clear blue water.
The first Red Bull Flugtag was held in 1992 in Vienna, Austria. Since then, more than 100 such events have taken place around the world, attracting up to 200,000 spectators for a single event. Participating teams don't have to be experts in aeronautics, as Flugtag crafts are judged on three parameters: flight distance, creativity of the build and showmanship.
To promote the event, Red Bull strategically placed in-store displays at key locations such as Spencer's, Auchan and Food Bazaar. The displays were designed and installed by Classic Retail Imaging Solutions.
Rajiv Krishnani, Business Head, Classic Retail Imaging Solutions, said, "Ideally, the Flugtag participants are supposed to create self-made flying objects decorated with their own theme. Based on that criteria, our objectives were to design a 'self-made' flying object which looks like it was dropped from a high ramp flying into the water. One of the bigger challenges we faced when creating the 3D duck was applying the fur to give it that home made look. All of the fabrication was completed in 15 days and we really enjoyed working with Red Bull on the project."