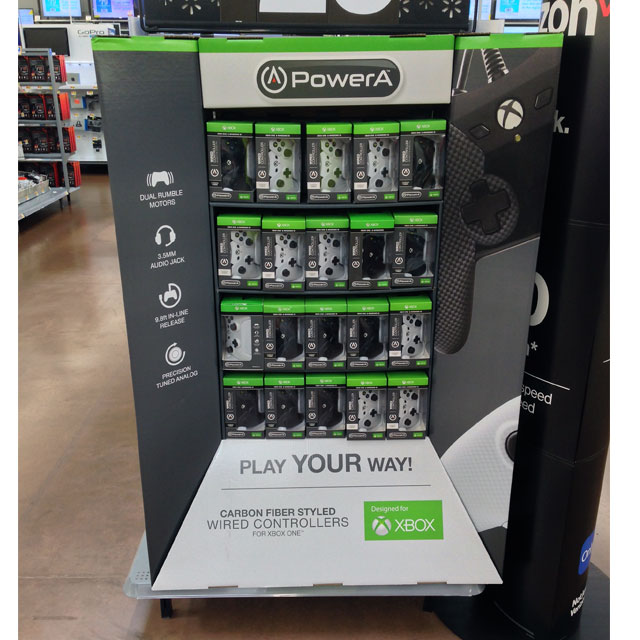 PowerA, an industry leader in video game and mobility accessories, recently announced the launch of a new stylish and affordable line of gaming Controllers.
Designed for the Xbox One, the carbon fiber styled controllers feature textured analog sticks, dual rumble motors, impulse triggers, a 3.5mm audio jack, and a 9.8ft in-line release cable.
As reported on prnewswire, "We wanted to offer a first-class controller that provided the best possible value while adding enhanced functionality. It also had to look great and incorporate a comfortable, ergonomic feel," said PowerA's Senior Director of Product Development, Jason Biheller. "With a development team made up of passionate gamers, every new product we create always starts with the gamer in mind."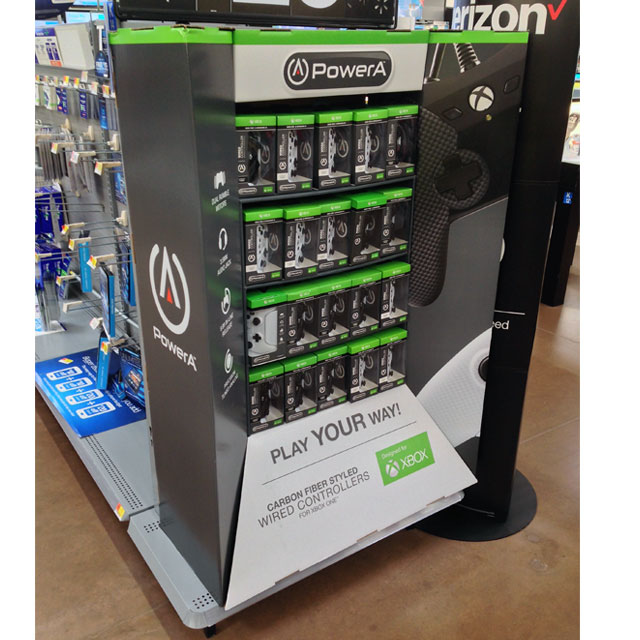 Exclusively available at Walmart, the controllers were spotted being merchandised on this great end cap display.
The graphic design on the display is really solid. The simplistic balance of colors between the packaging and display add just enough visual excitement. Check out the angled panel on the right side. The layered images were executed so well that it almost looks like it's made from plastic. The left panel listed product attributes using simple icons and some text. Overall, probably one of our top merchandising efforts this year in the category.
If you wish to view more gaming displays, visit our image gallery and use simply type gaming displays into the search box.
Related
Nintendo Who Will You Spend Your Summer With
Titanfall Robot Pallet Display
PS3 Essentials Counter Display