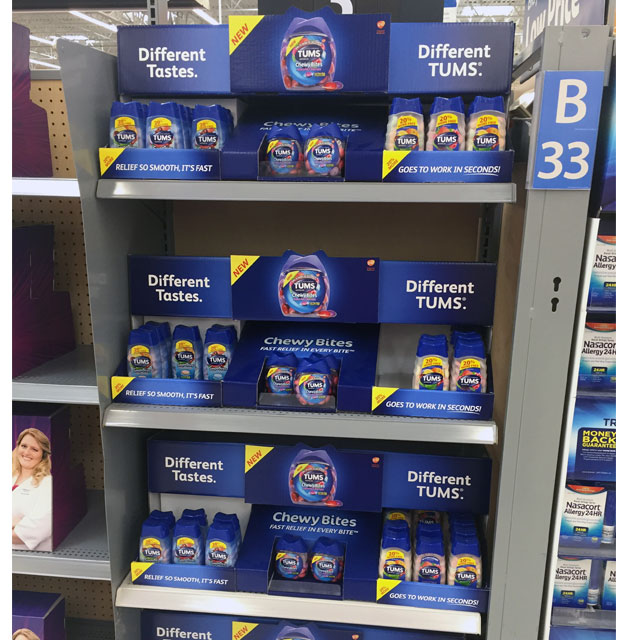 Tums Chewy Bites Offer Fast Relief In Every Bite
Last month, GSK Consumer Healthcare celebrated their most recent launch for TUMS Chewy Bites with a special pizza promotion. Chewy Bites, a fast-acting antacid with a tasty outer shell and soft center, offer the same extra-strength power found in other TUMS products.
In a recent interview, "As America's #1 antacid, TUMS® has always been proud to offer fast heartburn relief in every bite," said Stacey Harris, Senior Brand Manager, TUMS®. "With new TUMS® Chewy Bites, consumers nationwide are going to get the tried and true fast-acting heartburn relief combined with a great new taste. And what better way to celebrate the two than with another tasty item – pizza!"
On May 24, 2017, Consumers nationwide were able to tweet using the hashtag #TUMSChewyBites for the chance to win a free pizza delivered right to their door. Every hour, 140 consumers were randomly selected to receive the free pizza along with a coupon towards their next purchase of TUMS products.
The Chewy Bites end cap trays shown above are the same structure used when the brand launched TUMS Freshers back in 2012. Not sure why, but the visuals and educational copy for the Chewy Bites launch was  pared-down as compared to the Freshers Launch. Check out related reference links below.
Related
Tums Freshers Antacid Side Kick
Tums Freshers Launch Floor Display
Tums Freshers Try Now Aisle Violater
About GSK Consumer Healthcare
GSK Consumer Healthcare is one of the world's largest consumer healthcare companies. Our purpose is to help more people around the world to do more, feel better and live longer with everyday healthcare products. We have a heritage that goes back over 160 years. We own some of the world's best loved healthcare brands, including Sensodyne®, Theraflu®, Excedrin®, Nicorette® and NicoDerm®CQ®, Flonase® Allergy Relief, and TUMS®. These brands are successful in over 100 countries around the world because they all show our passion for quality, guaranteed by science. They are inspired by the real wants and needs of the millions of people who walk into pharmacies, supermarkets, market stalls and go on-line all over the world every day, and choose us first.
Our goal is to build a global, growing business we call a Fast Moving Consumer Healthcare (FMCH) company, dedicated to everyday healthcare with all of the scientific expertise and quality guarantees that demands, working at the speed and with the genuine consumer understanding the modern world expects.