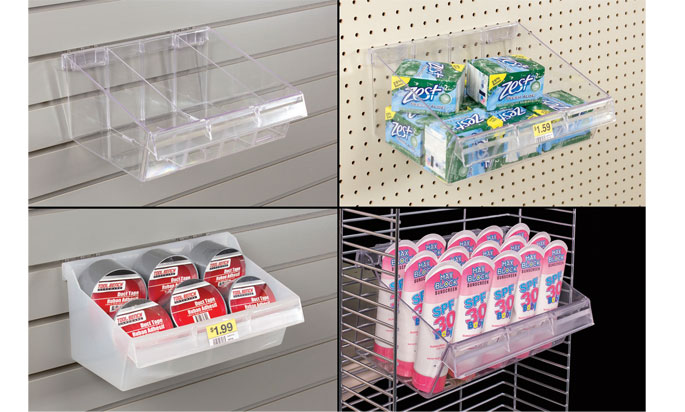 Highlight bulk product on multiple fixture types with new mounting adapters for FFR Merchandising's Multi-Purpose Bins with Dividers.
Multi-Purpose Bins with Dividers keep products visible and accessible to customers, and include a label area for addition of promotional or product information. Versatile bins can be used throughout the store with multiple mounting options.
Use new adapters to mount the bins to wire fixtures, pegboard and slatwall or simply attach to shelf-top with fasteners in integrated mounting slots.
Custom-configure the bins using the two included dividers to separate product; integrated slots allow dividers to be easily moved to accommodate various size products (three slots per bin).
Attractive bins are available in crystal-clear or natural plastic to complement most store décor and maintain product visibility. Available in three sizes: Small 7-1/2″ D, Medium 10-1/4″ D, and Large 12-5/8″ D; all bins are 11-7/8″ W x 5-7/8″ H.