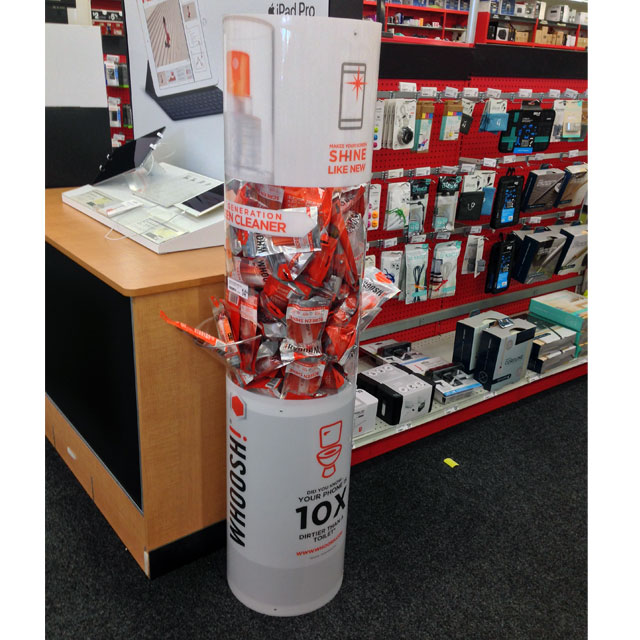 Whoosh! Cleans Life's Dirty Moments
Originally launched as a car-cleaning product, WHOOSH! was accidentally discovered when CEO Jason Greenspan accidentally spilt it onto his iPad. When he wiped it off, the screen looked brand new! That's when WHOOSH! changed their business model to focus on creating the Tech Hygiene category. Today, the company carries a line of spray and wipe products, both of which are 100% natural, non-hazardous, non-toxic and environmentally friendly.
"We are very fortunate to have customers that love our original Screen Shine Spray and asked for a wipe version for convenience to use on the go and to help share the product they love so much with others," said Jason Greenspan, chief executive officer, WHOOSH. "As a CEO, hearing feedback like this from customers is your dream and it validates our biggest goal for tech hygiene. That goal of course is to make it easy for consumers to practice good habits, just as we do with washing our hands or using a hand sanitizer gel."
To generate off-shelf interest, WHOOSH! rolled out this round merchandiser at major Office Supply retailers across the US. Constructed using different types of plastics, the compact display holds their spray products which were gravity fed into two, half round access chutes.
The tagline at the bottom of the display – 'Did You Know Your Phone Is 10x Dirtier Than Your Toilet' – is a powerful message that encourages shoppers to think about disinfecting their electronic gadgets. Not too long ago, we featured WHOOSH! in one of our trending reports using a temporary display to promote their sprays.
Related
Whoosh Tech Hygiene Floor Display
Fight For Your Right End Cap Display
Artliner Highlighter Counter Display
Post It Holiday Tree Floor Display
Pilot Think in Ink End Cap Display