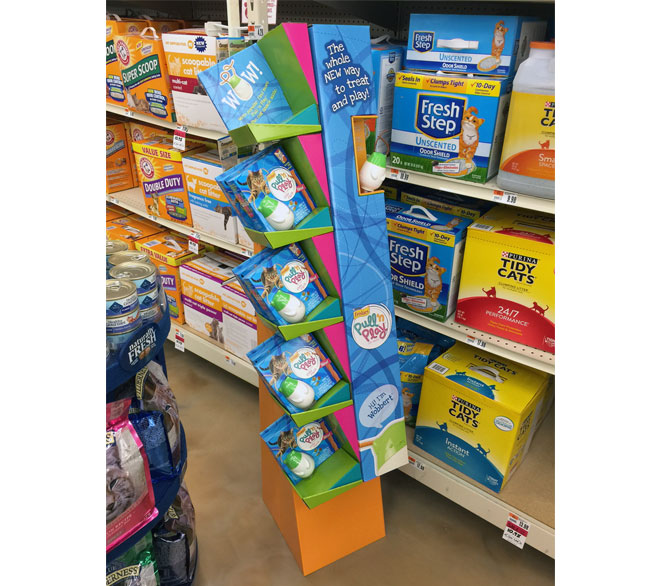 This past holiday season, Nestlé Purina PetCare could be found at retail promoting their Pull 'n Play combo pack. Pull 'n Play is the brands latest innovation in cat snacks. Touted as a whole new way to treat and play with your cat, the product features the first-ever edible strings that are available in three flavors: Chicken, Salmon and Tuna & Crab.
"It's no secret that cats love to play with string, which is why every cat wants to get their paws on Pull 'n Play, the only product on the market that offers edible strings and endless fun for our feline friends," said Alison Wilson, Assistant Brand Manager for Friskies treats. "Pull 'n Play is the perfect stocking stuffer for every cat this holiday season."
The Pull 'n Play combo pack includes the edible string treats, Friskies Party Mix and 'Wobbert' the fun wobble toy. Wobbert can accommodate a string treat in each ear and Friskies Party Mix in his belly, creating a fun and playful experience for cats.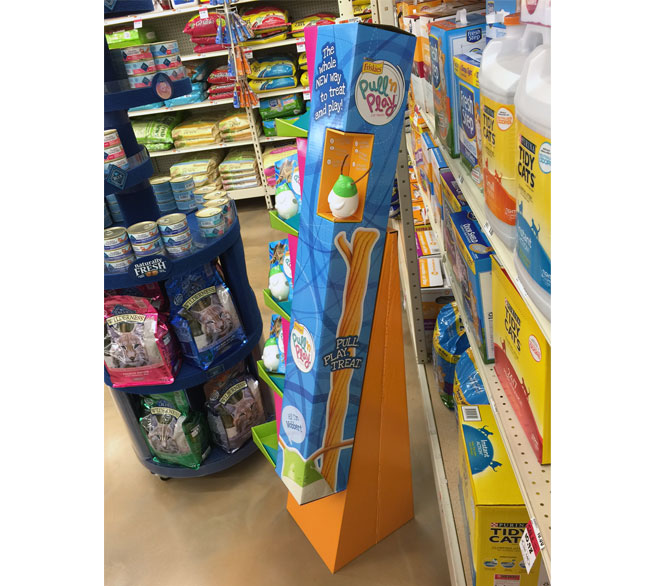 To assist with the promotion, the brand launched this floor display that could be found in most major pet retailers. Bright colors and nice shapes made the display a real standout with its visual appeal. Another nice feature were the angled combo packs and the copy panels that became visible as the product sold down.
A clever design element consisted of an interactive corner niche that showcased Wobbert so shoppers could interact and learn how the toy held and dispensed treats. Really nice effort!