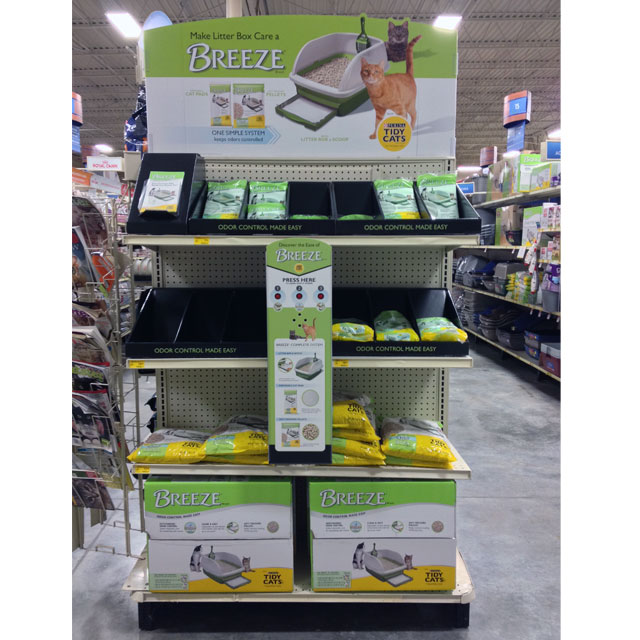 Purina, manufacturers of Tidy Cat Light Weight litter,  recently launched its newest low-maintenance litter innovation called Breeze. Available at online retailers and in-store, the Breeze system includes a litter box with a special scoop, a 3.5-pound bag of Breeze Litter Pellets and four Breeze Cat Pads.
As reported in a earlier press release, The pellets are made from silica gel and zeolite, which makes them 99.9 percent dust-free. The specially designed box allows the urine to pass over the pellets and through slits to a pad that is placed on a tray in the bottom of the box. The only scooping is for the solid waste. Pads are changed every seven days and the pellets once a month.
Purina was recently spotted promoting the new Breeze system with this end cap display. Located at a major pet retailer, the display program consisted of a riser, 2 corrugate trays and an interactive aisle violator.
To help pet owners transition their cats over to Breeze, the brand provided two educational components on the display. The first was a take-home literature pamphlet and the second was a push-button aisle violator. The 'Press Here To Learn How It Works' violator enabled shoppers to learn the importance of each step as it relates to the products needed to create the 3-step system in their homes.
To further help consumers transition their kitties, Purina has set up a special 'Transition Trouble' page on their site as well as a toll-free number which offers personalized help.
Related
Tidy Cat Interactive POP Display Demonstrates New LightWeight Features
Tidy Cat Lift It To Believe It Half Pallet
Tidy Cats Breeze Shelf Display