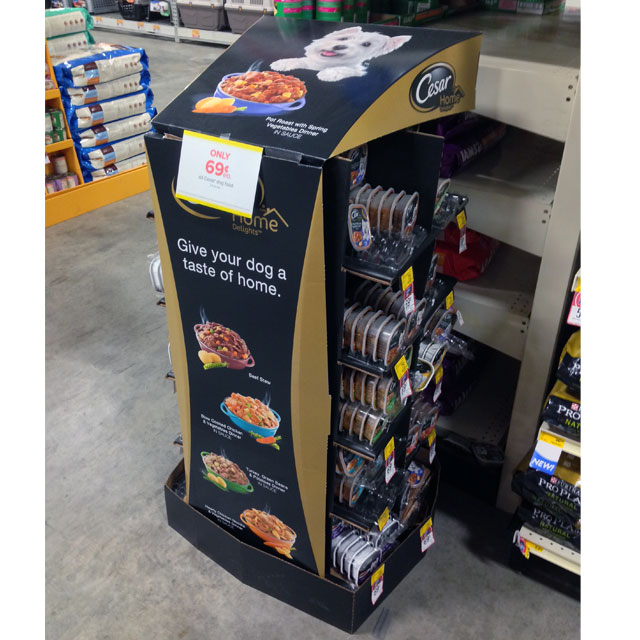 Earlier this year, Petsmart and the world's largest petcare company, Mars Petcare US, partnered to serve up some delicious dinners for furry foodies.
At Mars Petcare,  we're committed to make food with the same amount of love as you give to your best friend. Our desire is to give dog parents and their dogs the opportunity to bond over delicious food and a healthy lifestyle. That's why we put our heart and soul into the food we make. We want all dogs to experience the delicious taste of CESAR® dog food and share their happiness with their owners.
Mars Petcare brand, Cesar Home Delights, cooked up some great dishes and delivered them to Petsmart shoppers with this interesting merchandiser. Designed to shop from two sides, the floor display holds several delicious variants in vacuum-formed trays. A curved graphic panel highlights Cesar's mouthwatering dinners with yummy product images. A curved 'graphic hood' printed with the brand's iconic Westie complements a simmering Pot Roast with Spring Vegetables Dinner visual, reinforcing the 'Give your dog a taste of home' tagline.
RELATED
Feliway Comfort Zone Side Kick
Friskies Pet Superstore Floor Display
Sentry Treat Your Pets Pallet Display
About CESAR® Canine Cuisine
CESAR® Canine Cuisine is a high-quality line of premium wet dog food and dog treats for small- to medium-sized dogs. The CESAR® Brand wants to transform mealtime into moments of shared joy by providing irresistible taste and unparalleled variety all dogs love. The CESAR® Brand offers a variety of irresistible flavors in their Original Pate and Gourmet Filets in Sauce textures, as well as their HOME DELIGHTS™ line that provides comfort food favorites so your dog can enjoy the same meals that you do. For more information, visit www.cesar.com.
About Mars Petcare
Mars Petcare US is the U.S. operations of the world's largest petcare company at the privately-held Mars, Incorporated. Mars Petcare US produces some of the world's most beloved pet care brands, including PEDIGREE® Food and Treats for Dogs, CESAR® Canine Cuisine, IAMS™ Pet Food, SHEBA® Entrees for Cats, WHISKAS® Food for Cats, GREENIES™ Dental Chews and PILL POCKETS™ Treats, NUTRO™ Pet Food, EUKANUBA™ Pet Food and TEMPTATIONS™ Treats for Cats, as well as exclusive brands products for some of the leading retailers in the U.S. Headquartered in Franklin, Tenn., more than 3,700 Mars Petcare US associates make, sell and distribute its high-quality pet food from 20 manufacturing facilities located in communities across the U.S. For more information, please visit www.mars.com.