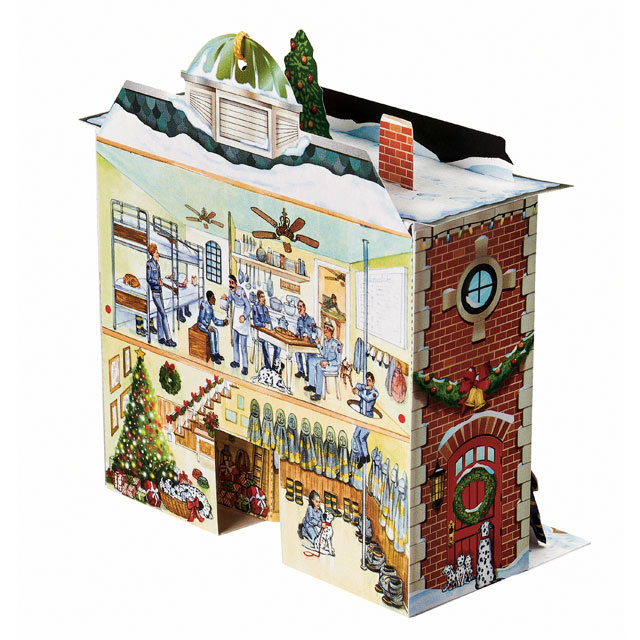 Graphics3, Inc. reached out to TFI Envision, Inc. to develop the illustration graphics for their new "Fire Station" Pop-Up Christmas Card Ornament for their 2019 catalog.
Graphics3, Inc. supplied TFI Envision's creative team with a blank fire station structure that magically pops-up (it's rubber band-activated) and transforms itself into a fully dimensional, freestanding paper miniature when removed from its envelope.
TFI Envision's team began researching everything from the architecture of fire stations, to signage, fireman's uniforms, fire station interiors, bunkrooms, fire engines and fire station life, and even the classic Dalmatian dog breed that was so readily represented in fire stations dating back to the 1800s.
Once general elements were agreed upon, TFI Envision's creative team created black & white sketches to show overall concepts. Selected concepts were translated into more detailed, full color sketches to fine tune the overall design. The TFI Envision's creative team collaborated with the Graphics3 structural team to refine the many die cut details including the stand-off elements (the fireman on the ladder and the fireman holding the shovel) to exactly match the many illustrations required for this complex pop-up. Every visible surface is illustrated – including footsteps in the snow; inside behind the firetruck; the closet in the back with holiday gifts; and so much more. The final illustrations are a mix of watercolor and digital artwork.
Thanks to the magic of great structural engineering and design, no assembly is required.