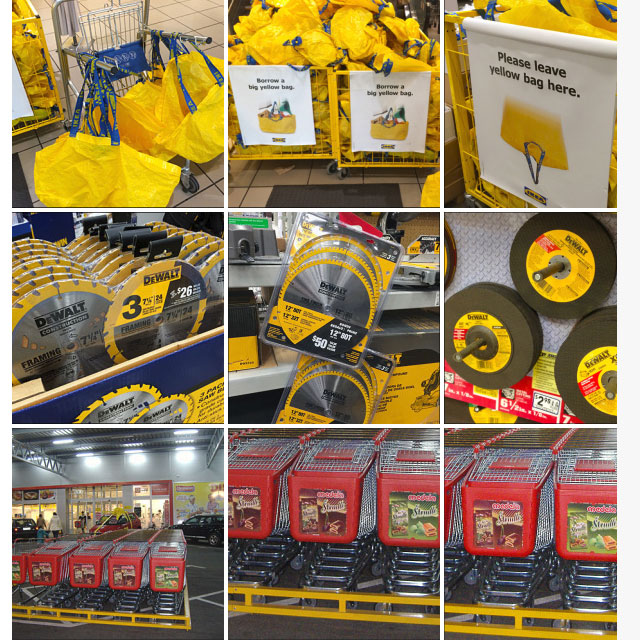 Are you eager to break with the tradition of Beige fixtures in retail? On FixturesCloseUp you can explore fixture color in advance as implemented by other adventurous specifiers, designers and merchandisers. Research color by post title and retail application via choices under the Index Page Menu. Or browse retail fixture color totally visually under the color selections of the Pinterest Board Menu, then link back to the post by clicking on the Photo Pin. Use BOTH methods for best results.
Color Research Tips:
Use the Index Page Menu approach first. It provides a partial visual list of color use in addition to Titled Posts. But its visual list often includes "flights" or groupings the same color use from various angles or zooms. Scan the Titles or use the browser <Find> command to local a key word within the titles. For example <FIND: Clinique> on the Orange Index Page to find Orange Clinique fixtures among the titles.
Use the Pinterest Board Menu approach second. It provides a totally visual approach, but typically only one image from what may be multi-image posts. You can cover more research ground this way, but with lesser specificity. Click any Pin on any Pinterest Board to be linked to the original post, commentary and often additional photos. That way you can dig deeper into any color scheme of interest.
Explore unusual colors. Don't be afraid to try the Orange Fixtures Index Page, Green Fixtures Index Page, Rust Finish Index Page, Yellow Fixtures Index Page or Pantone Index Page offerings.
Click here to access this incredible resource