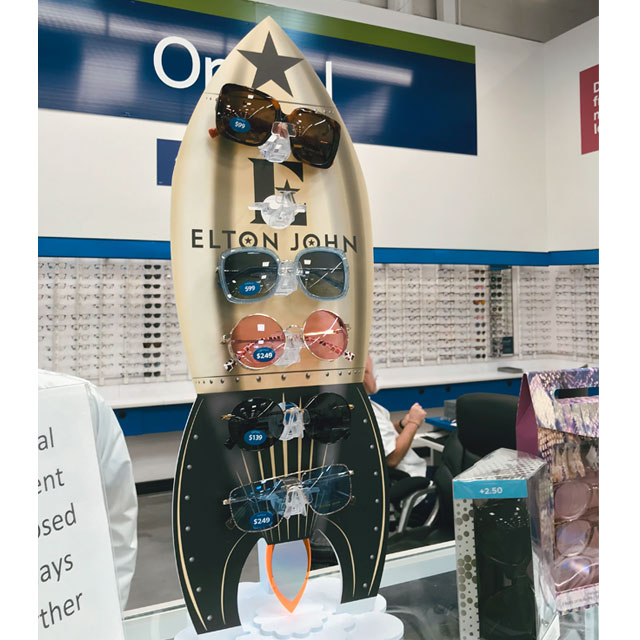 Known for his trendy rhinestone-covered glasses, Elton John recently partnered up with Walmart and Sam's Club to launch an exclusive line of eyewear. The lineup features three different collections…..The Foundation Collection – The Capsule Collection – The Master Collection. All of the collections represent milestones or sentimental moments from Elton's career.
"Elton John Eyewear celebrates confidence, self-expression and authenticity," John said in the announcement. "The line is designed to have something for everyone, so no matter who you are, you can always Look Yourself. It's not just about glasses. It's about changing the way people see themselves."
Purchases from Elton's eyewear line benefit the Elton John AIDS Foundation, which increases HIV education and awareness. Walmart is helping his organization with an annual minimum donation of $1 million dollars.
To help celebrate the launch of his eyewear line, the trade partners created this really cool rocket-shaped counter display. The plastic display was outfitted with injection molded rests that showcased 6 pairs of glasses. Custom Elton John graphics covered the rocket which sat on a base that was designed to mimic the smoke created when rockets are launched.
Check out these other Eyewear Displays
Cablz Eyewear Retainer Counter Display
Tiaraz Kids Sunglasses Mini Wing
Sources include:
Variety