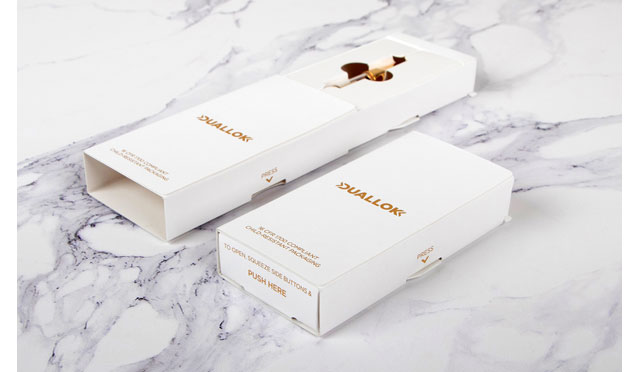 The Institute of Packaging Professionals (IoPP) applauds Duallok for their innovative child resistant (CR) packaging solution at the 2019 Ameristar Awards.
Announced on June 4 in Virginia USA, Duallok was awarded the winning solution for theDrug and Pharmaceutical category.
Just 27 solutions were recognized and rewarded for their innovative work and contribution to the industry at this year's awards, acknowledging Duallok as a leader in design along-side brands such as Clinique iD by Estée Lauder, O-I EXPRESSIONS, TricorBraun, Xbox by Microsoft, PepsiCo Inc. and Yankee Candle.
Developed by The award-winning design agency in London, UK, the Duallok patented double-locking design is the product of two years of R&D, passing certification 16 CFR 1700 guidelines for child-resistant packaging in late 2018. The solution is now available in dispensaries across the US, and Canada.
Rosie Reardon, MD at Duallok commented "We are already seeing significant demand for the solution. Brands relate to our mission statement; to create beautiful user-friendly and compliant packaging.
The Duallok was designed with kid's safety at it's core. The package provides a premium and compliant solution with instructions built-in in such a way that they provide sufficient guidance for adult opening, without detracting from the wider branding.
The only card-based child-resistant solution to win an award, the Duallok design was the most environmentally conscious CR solution to receive such recognition by the IoPP Ameristar packaging Awards, recognizing the growing demands of the industry for recyclable solutions and environmentally conscious design.
Rosie says, "Now available in a range of certified sizes, the Duallok is more adaptable than ever, suitable for housing a range of high-end controlled substances and products from legalized cannabis to pharmaceuticals and devices."
For more information, or to request your free sample contact Duallok on info@duallok.com, or visit the website on www.duallok.com