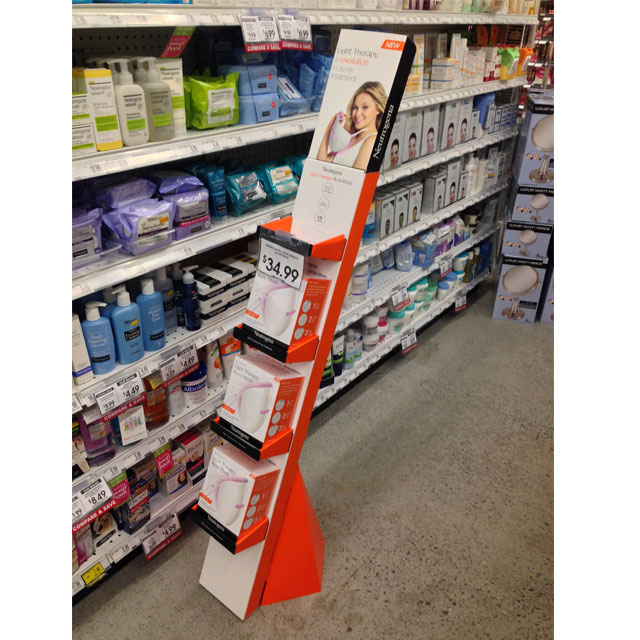 Neutrogena recently brought its Light Therapy Acne Mask skincare product into Bed, Bath & Beyond using this sleek floor stand display. Touted as a revolution in acne treatment, the face mask harnesses the power of clinically proven technology to clear acne and allow skin to heal itself.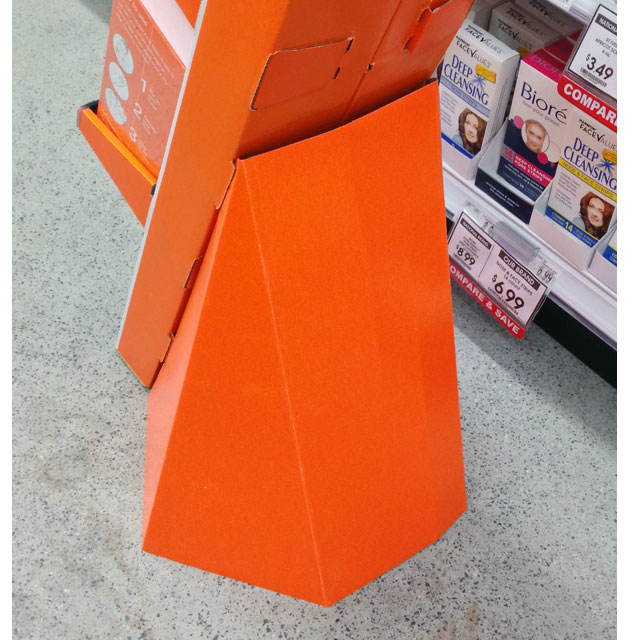 In addition to its cool appearance, we chose this display as one of our Insights because of the base. It's no secret that compliance in-store has always been an area of concern for brands spending money on a display they hope will be properly set-up at retail.
This Neutrogena display was designed to accommodate a pre-attached base which only needs popped into place and wala, a merchandiser that is ready to go in less than fifteen seconds. The base is compact and affordable, using very little paper to be effective. Another added bonus is that the base doesn't need to be glued as it simply tabs into slots on the backer.
Bright colors and a sleek footprint make this space-saving display an attractive offer for retailers with limited floor space, not to mention a win for the brand!
If you have any insights you would like to share with our community, please do not hesitate to reach out.
More Neutrogena POP Displays
Neutrogena Just One Towelette Dump Display
Superior Sun Protection Floor Display
Neutrogena All Star Rolling Floor Display
Other Displays With Unique Bases
Advil Free Travel Size Tower Display
Flonase Outperforms Allergy Floor Display
Lactacyd Odor Control Floor Display
More Insights Articles
Breton Riser is Easy as 1-2-3 to Install On Floor Display
Value-Added Engineering Helps Create Multi-Purpose Mini Wing
Elefun & Friends Are Popping Up In Store