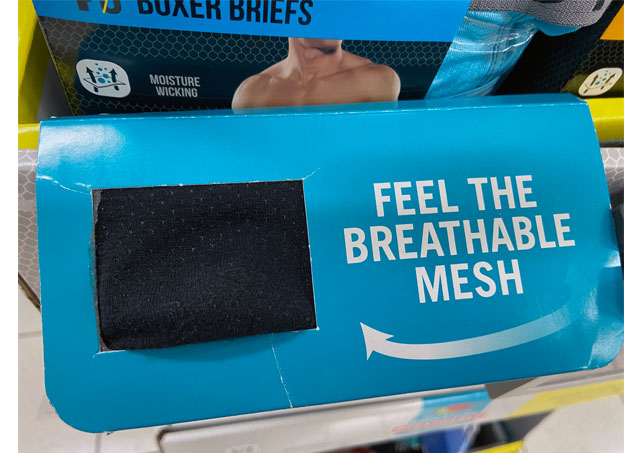 Stay Fresh And Cool On Hot Sweaty Days
Summer is quickly approaching and with it brings hot temperatures and discomfort to fellas who wear the wrong underwear. Fruit of the Loom offers a solution for that problem with their Performance Boxer Briefs.
The brand describes their briefs as follows…..Fruit of the Loom Breathable Lightweight Long Leg Boxer Briefs feature soft lightweight micro-mesh fabric that promotes air flow preventing you from getting hot. Moisture wicking technology distributes sweat away from the skin, keeping you dry throughout the day. These boxer briefs have a traditional fly design with reinforced seams for better support. A wider, tag free waistband feels soft against the skin.
To help shoppers better understand the science of these boxer briefs, Fruit of the Loom created this interactive floor stand. Talk about visuals………this display does a great job of showcasing the briefs on all available copy spaces. Purchasing apparel that can't be tried on is frustrating but the brand solved that problem by including a small ' Fell The Breathable Mesh' test panel that had an actual piece of Boxer Brief fabric affixed to it for sampling.
Related
Fruit of the Loom Bonus Savings Half Pallet
This Fit Wont Quit Pallet Display
Fruit of The Loom Cotton Stretch End Cap Trays
Sources include:
Fruit of the Loom