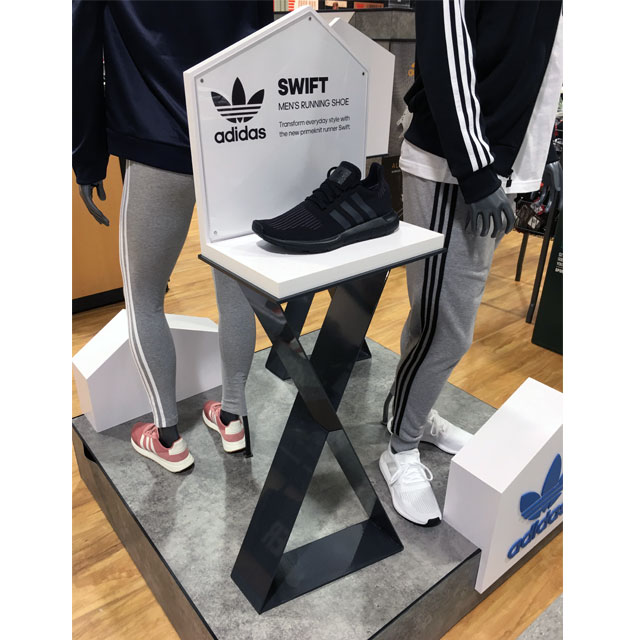 Just in time for the 2017 holiday season, Adidas was spotted running a campaign at Dick's Sporting Goods for their latest innovation, the Swift Running Shoe. Drawing inspiration from 80's Adidas running shoes, the Swift updates old-school looks with modern technology.
According to the brands website……….the Swift is made for the daily grind. It draws on heritage Adidas running styles and gives them a new spin. These men's shoes feature a stretchy, sock-like knit upper for a close fit and supportive comfort. Floating 3-Stripes and embroidered lines on the forefoot make a subtle style statement.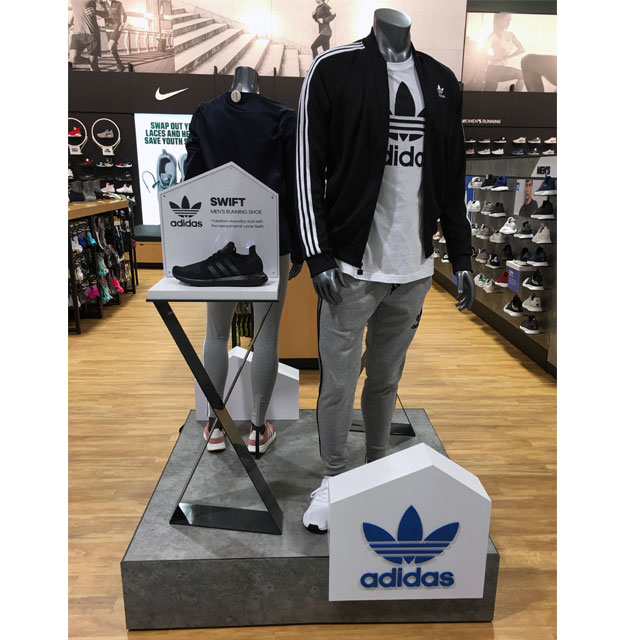 In addition to the x-shaped shoe pedestal, the platform display also incorporated a few pieces from the Adidas running apparel line to encourage shoppers to complete the look. The dimensional, Adidas-branded corner treatments on both sides and the identically-shaped display riser help define the designated retail space.
A Special thanks to our good friends at Fixtures Close Up for providing the images. Check out their site at www.fixturescloseup.com.
In addition to the links below, you can visit the gallery to view more Adidas promotional collateral. Type adidas into the keyword search box once you land in the gallery.
Related
Adidas Turns On The Afterburners At Dick's
Adidas Springblade POP Display Radiates Energy For Runners
Adidas Energy Boost POP Floor Display Lets Shoppers Try Before They Buy