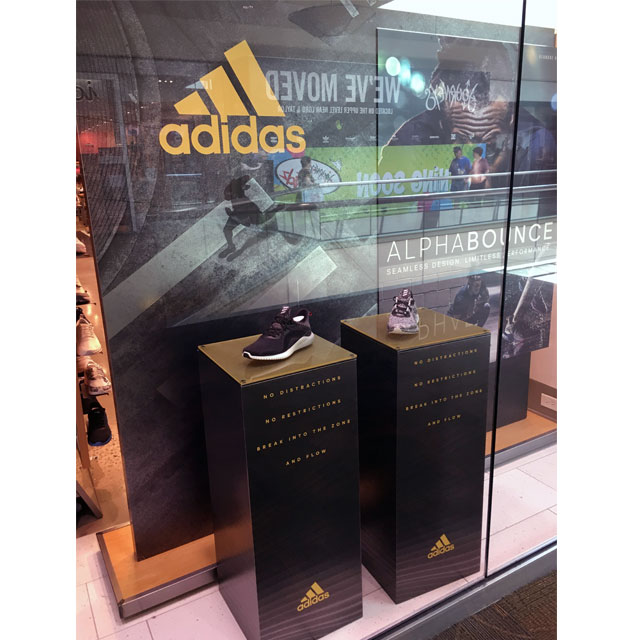 The Alpha Bounce, which made its debut earlier this year, is a running shoe that offers an adaptive fit and feel for runners and versatile athletes. The shoe's design was inspired by an athlete's ability to get in the zone by incorporating full-length Bounce technology, which is a first for the brand. A new material in the shoe's upper called FORGEDMESH provides a custom fit with expansion and flexibility in the specific areas that need them most.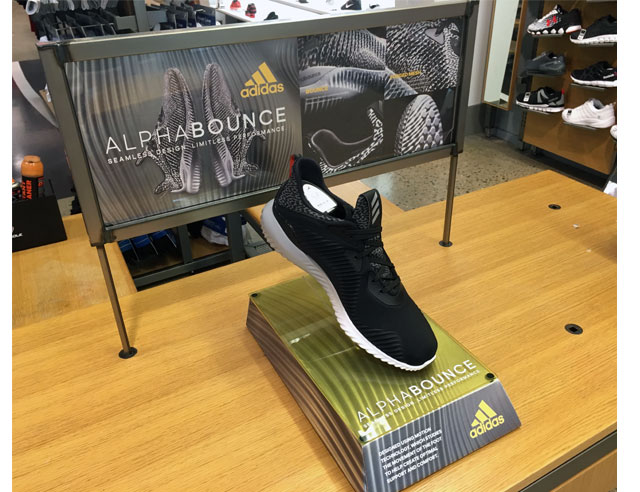 Adidas rolled out several merchandising vehicles to launch the AlphaBounce. The upper image shows a window display, like those typically found at a running shoe retailer, which provided a dedicated space to debut the new shoe. Two corrugate pedestals with acrylic tops showcased the shoes in front of a huge AlphaBounce banner.
The lower image is a tabletop display that utilizes a corrugate platform with the colored acrylic top. The 'floating' shoe is a nice touch as it offers almost complete visibility for shoppers. If you didn't notice, the AlphaBounce was designed with low-key branding. This minimalistic approach was also carried over on all of the brands marketing collateral.
Related
Adidas Springblade POP Display Radiates Energy For Runners
Adidas Energy Boost POP Floor Display Lets Shoppers Try Before They Buy 
Images for this article provided by FixturesCloseUp