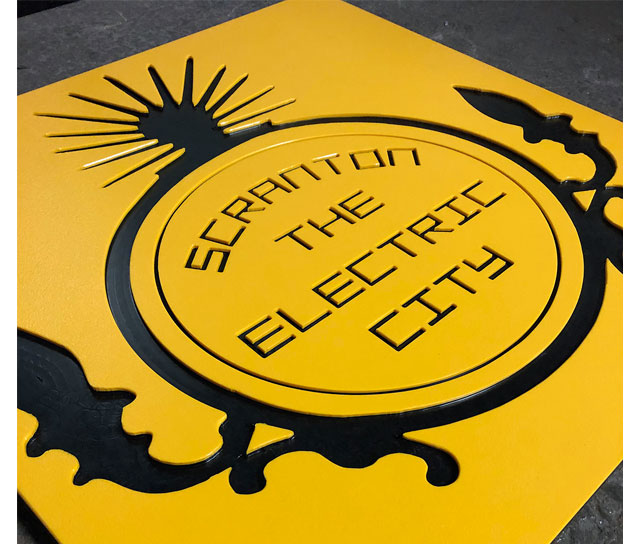 Vycom displays durable Polycarve signage material at ISA Sign Expo
Multi-colored HDPE sheets for dimensional signage and artistic expression
Vycom Corp., a market-leading manufacturer of highly innovative plastic sheet products, will demonstrate how its Polycarve® multi-colored high-density polyethylene (HDPE) sheets can be used in signage and graphics applications at the upcoming ISA Sign Expo. Available in five standard color combinations, the Polycarve line includes a contrasting core color that – when the top layer is routed – becomes visible, providing an ideal solution for dimensional artistic expression, wayfinding or outdoor-durable signage. Polycarve material will be on display in the Vycom booth 4853 at the ISA Sign Expo 2019, April 24-26, in Las Vegas.
Easy to fabricate, no special tools required
With Polycarve material, sign makers can create dimensional, color contrasting signage using the same familiar routing and woodworking tools already in use. This material is smooth to the touch and can be shaped using basic tools, providing the ability to create rounded corners, smooth edges, and colors that won't bleed or leach.
Low maintenance, high durability
Polycarve material is easy to clean and offer excellent scratch and vandal resistance. Offering superior weatherability and moisture resistance, this material provides 30 years of outdoor durability that won't fade, delaminate, chip, rot or swell when exposed to direct Southern U.S. sunlight and other extreme weather conditions. This same material is used in the company's Playboard® line designed for use in playgrounds, ice rinks, and skate parks, and is proven to stand up to the weather and vigorous use. Polycarve materials stand the test of time by reducing replacement costs while looking crisp through the life of the sign.
Wide variety of indoor or outdoor applications
Polycarve material gives sign makers the ability to expand their offerings with dimensional and color contrasting options that make their clients' signs stand out in both indoor and outdoor applications. Ideal for indoor applications such as alert placards and directional or wayfinding in high traffic areas, it can also be used outdoors for signage applications in marine, playground, park, golf course, amusement park, campground, city / village / neighborhood environments and more. Five different color combinations are available to suit nearly any clients' unique brand of messaging.
Expertly crafted in the USA
Vycom is an industry leader of premium plastics that replace traditional materials and provide value through lower maintenance, refined aesthetics, and reduced total cost. Since all Vycom products are manufactured in the USA at the company's multiple facilities in Pennsylvania encompassing well over a million square feet of space, Vycom's manufacturing agility enables high responsiveness to fluctuations in customer demand. Customers can rest assured that the company's just-in-time production capability and available rapid delivery can help keep their wide format print and sign production running smoothly.
Available in five standard color combinations
Polycarve material is available in five standard color combinations with a matte finish: beige/green/beige, blue/yellow/blue, green/beige/green, yellow/red/yellow and black/white/black; all color combinations are available in 12 mm (0.5") and 19 mm (0.75") thicknesses, in a standard sheet size of 4- by 10-feet. Custom color combinations are available for quantity orders. For more information on this offering, please contact Vycom at signgraphics@vycomplastics.com.
About Vycom
Vycom, a division of The AZEK Company, manufactures market-leading brands of highly innovative plastic sheet products designed to replace wood, metal, and other traditional materials in a variety of applications. The company's extensive inventory and product offerings provide its customers with the convenience of single-source purchasing and the ability to maximize efficiency. Vycom's manufacturing agility places it in a prime position to be the essential partner in creating solutions that optimize quality and performance, and in providing a more sustainable future. For more information, visit https://www.vycomplastics.com/.
Web: www.vycomplastics.com
Email: info@vycomplastics.com