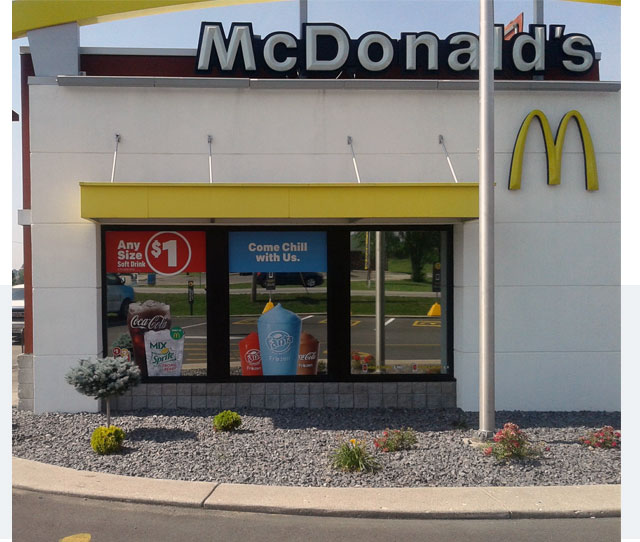 S2K Graphics Installs Window Wraps In 12,000 McDonald's Restaurants Nationwide
S2K Graphics, an affiliate of Franke Group and a nationally recognized leader in point-of-purchase (P.O.P.) merchandising, recently completed nationwide P.O.P. window graphic installations at 12,000 McDonald's locations across the U.S. to assist the quick-service restaurant (QSR) chain in promoting its summer beverage program.
The coast-to-coast installations, which feature over-sized die-cut graphics customized to each restaurant's exact window configuration, including variances for local market product offerings, took approximately seven weeks to complete. On average, once the S2K Graphics installation team arrived on-site, they installed each restaurant's graphic set in under a half hour. The S2K Graphics field teams addressed varying factors encountered at each restaurant including traffic patterns around the restaurant, the actual window configuration of the restaurant and the window dimensions. Some of the larger window displays measured more than 20 feet in length.
"Last year we installed our Window Wrap program in nearly 7,000 McDonald's restaurants," said Dan Pulos, founder and president of S2K Graphics. "The return on investment and overall response to the eye-catching graphics was so positive that an additional 5,000 restaurants were included this year. This is an amazing testament to the product and the effectiveness of quality P.O.P. when properly executed."
The installations were part of S2K Graphics' unique Window Wrap program, which was designed to provide maximum impact and perfect execution for large-scale window merchandising campaigns. The program relies on S2K Graphics' six pillars of Window Wrap success: program management, survey/analysis, creative design, in-house production, installation/service and documentation. Starting initially with 500 restaurants in Detroit five years ago, the program has grown exponentially each year due to the results it provides clients. S2K Graphics has executed more than 100,000 installations of the product in the U.S. to date.