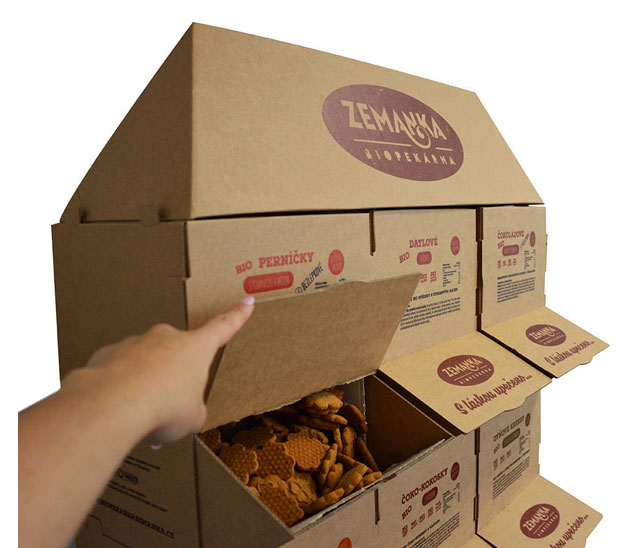 Thimm has won two awards for the Zemanka Organic Bakery bin display
Thimm developed and produced a sales chute made from corrugated cardboard for the sale of the Czech Zemanka Organic Bakery's loose biscuits. The two-part chute consists of a corrugated cardboard outer box with inner packaging containing the loose goods. This inner packaging is made using "foodWave®" corrugated cardboard, which is suitable for direct contact with food. The chute has been designed so that the bakery products always slide to the front for ready access. A sealable top flap protects the unpackaged food from external influences. Stacking lugs on the outside of the packaging ensure stability and form the basis for the display.
The Czech developers designed the Zemanka display to be flexible, so that three or six chutes can be used. This allows retailers to choose how many different flavours of loose food products are to be offered. The inner packaging made from certified foodWave® corrugated cardboard can be easily replaced by the retailer after sale. When combined with a topper, a base and a base support made of water-resistant corrugated cardboard, the packaging forms an efficient and sustainable display for long-term use. On the front of the display, there is a pocket for information material and bags.
The annual Czech Obal roku competition awards innovative packaging and displays with the title "Packaging of the Year". Thimm was awarded the prize in the "Food" category on 24 October 2019 in Prague for its packaging development. Thimm also won the POPAI CE Award on 21 November 2019 for this same display concept. The solution was the winner in the categories "Traditional POPs – Ecological Concepts" and "Best POPs from Paper-based Material" in this Central European competition.
About Thimm
Thimm Group is the leading solutions provider for the packaging and distribution of goods. Its portfolio includes corrugated cardboard transportation and sales packaging, high-quality promotional displays, packaging systems combining a range of materials and print products for further industrial processing. The company's product offerings are further enhanced by a wide range of associated packaging services covering the entire supply chain. Its customers include prestigious branded product groups from across all sectors. Founded in 1949, the family-owned business has currently more than 3,500 employees at 22 sites in Germany, Czech Republic, Romania, Poland, France and Mexico and generated in 2018 annual revenues of around 645 million euros.
Press Contact:
Denise Hoffmann, Brand and Corporate Communications
THIMM Group GmbH + Co. KG, Tel.: +49 5551 703 802, Email: denise.hoffmann@thimm.de
Michael Weber, Head of Corporate Marketing Thimm Group
THIMM Group GmbH + Co. KG, Tel.: +49 5551 703 891, Email: michael.weber@thimm.de