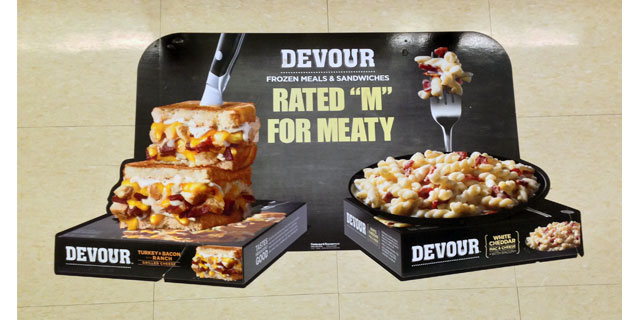 All Food Should Be Mouth Watering
Introduced in 2016, Devour frozen meals was launched to expand Kraft Heinz's reach in the frozen food category. The Devour line is touted as crave-able meals that don't taste like they came from the freezer.
To help convey the message that their meals are made using tender meats, creamy sauces, crispy crusts and gooey cheeses, the brand rolled out this tasty floor graphic which was spotted in the frozen food aisle at a local supermarket.
The dimensional product shots really add a lot of visual interest as do the mouth-watering meals that are rated 'M' for meaty!
If you want to view more cool floor graphics, visit the image gallery and type the word floor graphics into the search box…….click enter or use the magnifying glass icon to see search results.
Related
Freshen Your Day Floor Graphic
Eggo Bites Waffle Floor Graphic