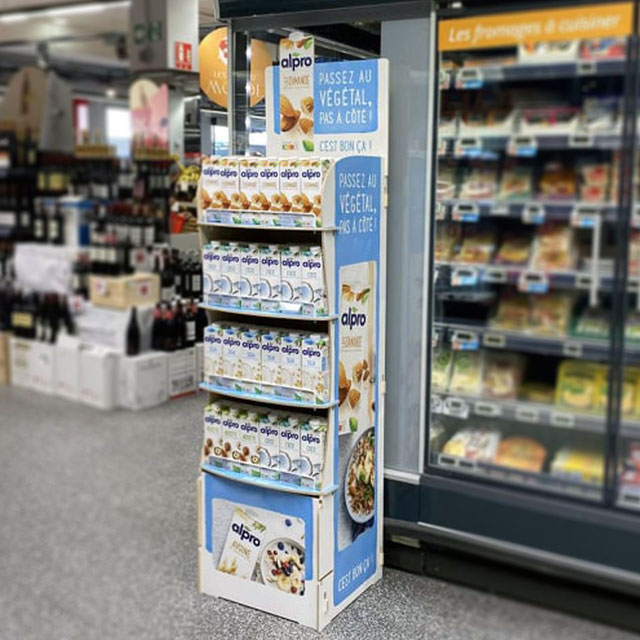 Better for your brand, your budget and your conscience
STI Group recently produced this sustainable floor display to help French-based Danone promote several of its Alpro products.
Alpro's products are based on the wonder of delicious and nutritious plants that are good for people and the planet. Last November the world's largest yogurt maker announced that it will be converting the production of its dairy plant in Southern France to mostly oak-based plants for the Danone brand. These upgrades will make the plant the largest plant-based production facility in Europe.
"We observe consumers' interest in plant-based recipes, which are a simple solution for those who want a more varied and diversified diet," Danone France's François Eyraud said.
To help reflect the brands' values, STI blended their eco-friendly vision with natural, sustainable plywood materials to construct the floor merchandiser. The sturdy four shelf display was cleverly designed for quick set-up in store with slot-together components.
Some of the benefits of using plywood displays.
Sustainable: Wood from sustainable forestry
Savings: Compact, light flat pack lowers transport cost & CO2
Quick: Simple, no-tool assembly
Strong: Works for heavy products
Durable: Long-lasting in store presence
Flexible: Custom design options
Check out this video showing how a slotted design is assembled.
Sources include:
Reuters
STI Group